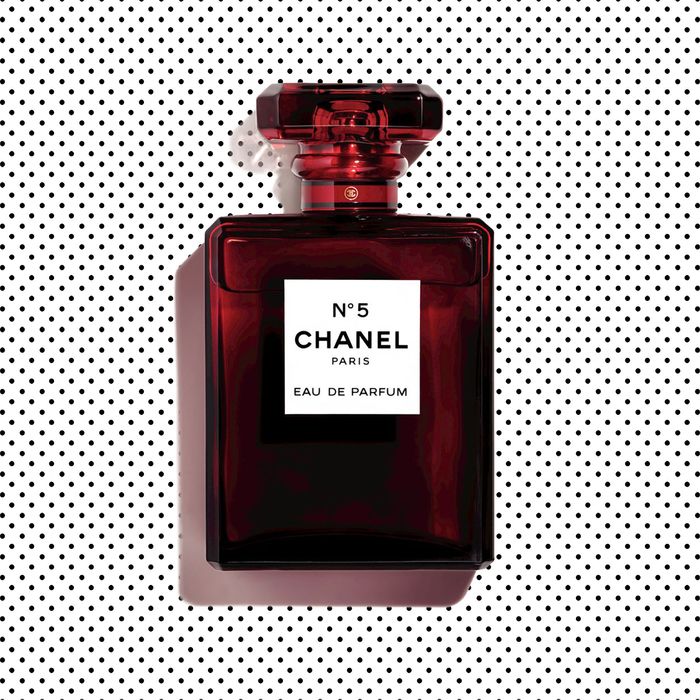 Rouge la la.
Photo: Courtesy of Chanel
Little Black Dress. Multiple strands of pearls. Most of the timeless looks from the past century can all be traced back to Chanel. Perhaps the most memorable of all is the brand's first fragrance, Chanel No. 5. You can probably picture it now: Housed in a rectangular glass bottle with a minimalist, black-and-white label. But hey, it's been almost a hundred years since it's been on the market, so to shake things up, Chanel is releasing the perfume in red collector's edition bottles.
Firstly, why exactly is this fragrance so famous? It was the world's first abstract fragrance, utilizing floral aldehydes created by perfumer Ernest Beaux specifically for this scent. It's complex and multi-layered in a way that perfumes really hadn't been before, so part of its memorability is due to some pretty revolutionary breakthroughs in scent technology. The red bottles are a tantalizing choice for a collection known for its black-and-white aesthetic. The press release for the special collector's edition release even pokes a bit of fun at it: "Red. What other color could express the uncompromising choices of a designer who wanted to dress woman only in black, white, beige, gold and … red?"
The bottles will be available in Chanel stores in October and in department stores and online in November. You can purchase the originale Eau de Parfum, which Chanel herself described as a "bouquet of abstract flowers", or the Eau de Toilette, which emphasizes citrus and musk alongside its floral notes.
If you buy something through our links, New York may earn an affiliate commission.