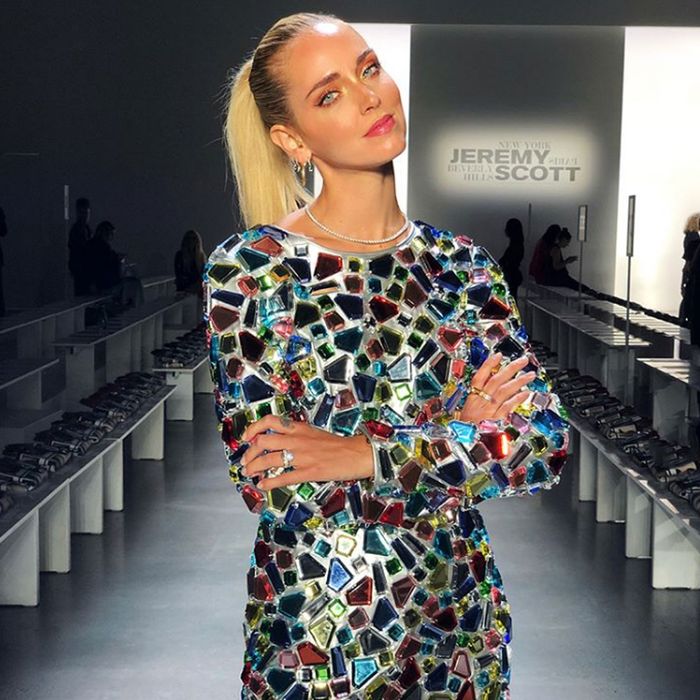 Chiara Ferragni.
Photo: Instagram/chiaraferragni
Content does not sleep. Nowhere is this is more clear than at New York Fashion Week, where the shows run from 9 a.m. until 9 p.m. — not counting after-parties — and the only must-have accessory is an external phone charger.
For walking content machines like blogger Chiara Ferragni, also known as the Blonde Salad, Fashion Week is just another day on the job. And Ferragni works hard. Less than a week ago, she married Italian rapper Federico Leonardo Lucia with an insanely over-the-top carnival of a wedding. And by Thursday night, she was sitting front row at Jeremy Scott's spring 2019 show, flanked by Paris Hilton and Jasmine Sanders. Ferragni has more Instagram followers than the two of them combined, clocking in at 14.8 million to date.
"I'm so happy that people loved it, even from far away," Ferragni told the Cut when congratulated on her recent nuptials at Jeremy Scott. Her favorite part of the wedding was the Coachella-themed carnival at the end. "We were all relaxed — I had changed all of my looks — and everyone was a little drunk, or tipsy, and singing and going on the rides," she said. "We went to bed at like 4 or 5 in the morning."
According to reports, the wedding's hashtag, #TheFerragnez, garnered approximated 67 million engagements over the weekend, with a "media impact value" (MIV) of around $36 million. It helped that the handsome couple was backed by luxury brands every step of the way. Lancôme provided Ferragni's beauty products. (She is the face of the brand.) Plus, she wore Prada to her rehearsal dinner, Alberta Ferretti to her bridal party, and then two custom Dior gowns — one to walk down the aisle, and another for the reception.
Launchmetrics, a company that analyzes data for fashion brands, found that Dior saw the highest percentage of brand engagement, at about 5.6 million globally, which translates to about $5.2 million in MIV. This made Ferragni wedding dress more "valuable" than Meghan Markle's Givenchy gown. So, it's no wonder fashion brands want her sitting front row at Fashion Week.
When asked how it felt to have more eyeballs than the Duchess of Sussex, Ferragni glowed. "I love it because so many television channels wanted to do a livestream of the whole wedding, and I was like, 'I don't know, it's not really my thing; I'd rather have everybody post the way they want,'" she said. "This turned out to be the best way. It really showed that TV is not as important as the internet and social media. That's way more powerful."
Can we expect an equally social media–friendly honeymoon? Yes, in January. But, alas, there will not be a theme. "It's just going to be me and him, unplugging," Ferragni said.
So, no social media then? Well … Ferragni paused.
"We're probably going to do social media. But we won't be forced to."