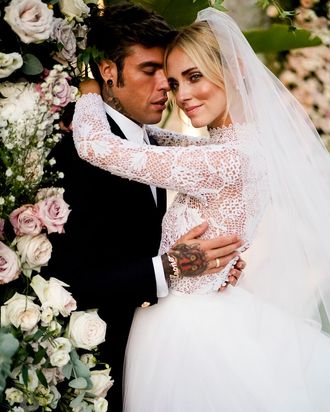 Chiara Ferragni and Fedez.
Photo: David Bastianoni/Dior
Fashion blogger Chiara Ferragni married Italian rapper Fedez in Sicily on September 1. In addition to everything for the wedding branded "Ferragnez," Chiara's custom gowns were a highlight of the dreamy Italian wedding.
Ferragni wore two Dior gowns for the her wedding. Both were designed by Maria Grazia Chiuri. The wedding dress took over 1,600 hours to create, and over 400 meters of fabric were used to create the long-sleeved gown with an elaborate bodice.
According to Dior, the evening dress was "conceived as a celebration of her meeting her husband." It was embroidered with emblems from cities they lived together. There is also a lion sewn in to the dress, to represent their young son, Leone.

"Maria Grazia is a wonderful designer," Ferragni said of working with Chiuri. "I have admired and worn her creations for Dior since her first collection for the House. We are women at different stages of our working and personal lives, but we both share the same values and the same passion for empowering young girls."
Ferragni said that she cried each time she saw the dresses as they were created. She wanted a dress that was "simple but timeless, and romantic and feminine at the same time." Working with Dior for her wedding was something that made her dreams come true.
"Dior is the most iconic, timeless couture house in all the history of fashion," Ferragni. "It is a symbol of French culture, handcraft and luxury, everything that I as a woman can dream of."