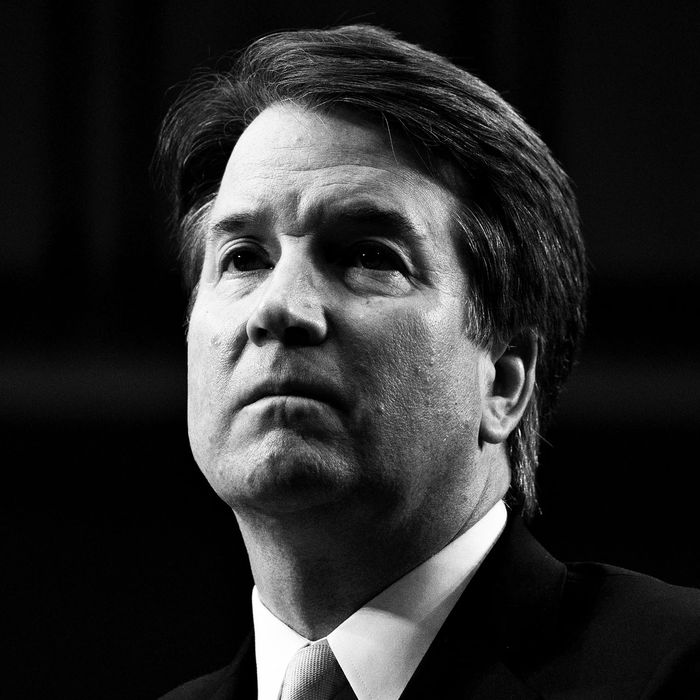 Brett Kavanaugh.
Photo: Andrew Harrer/Bloomberg via Getty Images
Shortly after the New Yorker published a report detailing the allegation of sexual assault against Supreme Court nominee Brett Kavanaugh, Senator Chuck Grassley released a letter signed by 65 women who said they went to high school with Kavanaugh, and that in the 35 years they've known him he has "behaved honorably and treated women with respect." Now, the former classmates of his accuser, Christine Blasey Ford, are circulating their own letter of support, HuffPost reports.
A draft of the letter, written by alumnae of Ford's alma mater, the prestigious all-girls Holton-Arms School in Bethesda, Maryland, reads, "We believe Dr. Blasey Ford and are grateful that she came forward to tell her story. It demands a thorough and independent investigation before the Senate can reasonably vote on Brett Kavanaugh's nomination to a lifetime seat on the nation's highest court."
They add, "Dr. Blasey Ford's experience is all too consistent with stories we heard and lived while attending Holton. Many of us are survivors ourselves."
It is signed, "Holton Alumae in Support of Dr. Christine Blasey Ford,
A group of 200-plus alumnae from the classes of 1967–2018."
Back in July, Ford sent letters detailing her experience with Kavanaugh to her congressperson, Anna Eshoo, as well as Senator Dianne Feinstein. She claimed that Kavanaugh and a friend trapped her in a room, and that Kavanaugh held her down on a bed and tried to disrobe her, holding his hand over her mouth when she tried to scream.
"With Kavanaugh's hand over my mouth I feared he may inadvertently kill me," she wrote.
Though Ford initially said she wished to remain anonymous, she came forward this weekend, telling the Washington Post, "Now I feel like my civic responsibility is outweighing my anguish and terror about retaliation."
Kavanaugh has denied the allegations against him.
On Monday, both Kavanaugh and Ford said they would be willing to testify before the Senate Judiciary Committee about the incident.