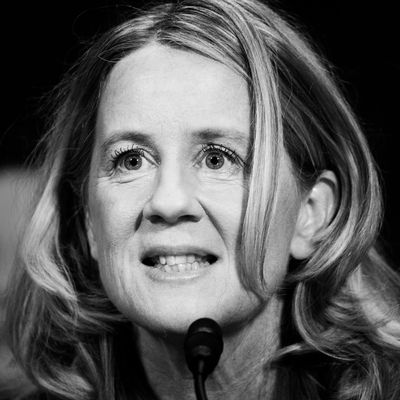 Christine Blasey Ford testifying.
Photo: Pool/Getty Images
We've seen a lot of Brett Kavanaugh's blinking face in the last few weeks, but today is the first day we actually saw and heard Christine Blasey Ford, who has dared challenge the carpool dad and Supreme Court nominee. In the two blurry photos that circulated online before today, her eyes had been guarded behind sunglasses; what she sounds like, we finally are learning during this afternoon's televised Senate hearing. I don't know if it's intentional, but our clearest image of her face had previously been of Ford as the girl she was when, as she just testified, she was locked in that room with Kavanaugh and his friend Mark Judge: baby-faced, Farrah haircut, mouth slightly ajar.
What came across, listening to Ford testify, was her initial faith that the Republicans choosing Kennedy's successor would want to hear from her, that she tried to figure out how to get the information to them before it was too late. Even after her own world failed to keep her safe, she expected to be heard. Maybe that's because she comes from Kavanaugh's world. And that's why today is the day Republicans never wanted to come. (Only hours ago, they emptied out the trash can of their anonymous tips in the hope of muddying up the essential clarity of Christine Blasey Ford's voice.)
It strikes me that Republicans are scared of Ford because she is essentially a class traitor. Two of the accusers whose names we know, Deborah Ramirez and Julie Swetnick, were immediately marked as outsiders by the circle of old school friends and Republican operatives that closed around Brett Kavanaugh from the start. Deborah was, the Times reported, "the daughter of a telephone company lineman and a medical technician" — nearly a townie, half Puerto Rican, doing her time scrubbing dorm toilets and serving her classmates food while Kavanaugh was, according to his roommate, coating his dorm bathroom in vomit. Julie Swetnick was worse, by the lights of Kavanaugh's Georgetown Prep defenders: "Never heard of her. I don't remember anyone from Prep hanging out with public school girls, especially from Gaithersburg." Talk about incriminating yourself.
It's a lie, of course, but a telling one. I've been corresponding this week with a woman who went to nearby Walter Johnson High School and socialized with Kavanaugh at the time. She says that in the summer of 1983, when she went to Beach Week parties with the boys of Georgetown Prep, she rarely saw private school girls. "I think they kept us separated," she said. "Like sheep."
Christine Blasey Ford cannot be dismissed as a pretender to privilege, which I suspect is what scares Republicans so much. But for her decision to come out about Brett Kavanaugh and to remake herself as a California surfing mom, she is the archetypal Republican voter: A white, wealthy suburban married women with children. Her parents are Republicans. Her father plays golf with Brett Kavanaugh's dad at Burning Tree. Her parents have been noticeably silent — stonily so, with no letter of support, only the most begrudging words. It chilled me to read what her father, Ralph Blasey, wrung from himself to offer the Washington Post, in the conditional tense: "I think all of the Blasey family would support her. I think her record stands for itself. Her schooling, her jobs, and so on." Then he hung up. A second call yielded this hypothetical: "I think any father would have love for his daughter."
Women like Ford are the ones who have mostly raced to protect Brett Kavanaugh — not to mention Donald Trump — because admitting that there was something rotten in their culture would implicate them, too. What makes Ford different, it seems, is that she is ready to tell the truth that even the white woman on the pedestal is ultimately doomed to subordination, and if she gets in the way of the plan or breaks the code — well, she's on her own.