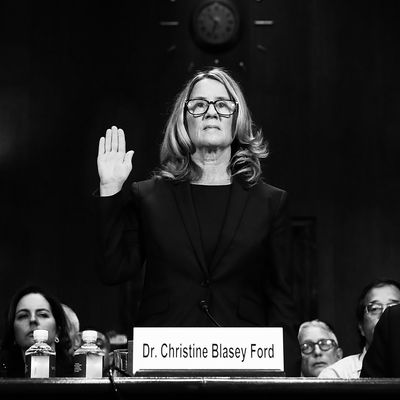 Christine Blasey Ford.
Photo: Win McNamee/Getty Images
Before describing one of the most traumatic experiences of her life in front of the world, 51-year-old professor Christine Blasey Ford reiterated that she wasn't testifying against Supreme Court nominee Brett Kavanaugh because she wanted to; she was there because she believes it to be her "civic duty" to inform senators about the Kavanaugh she knows, so that they can decide whether he deserves a lifetime appointment on the highest federal court in the United States.
When Ford was in high school in the 1980s, she claims that Kavanaugh covered her mouth and attempted to rape her at a party — an incident that left her dealing with PTSD and claustrophobia for the rest of her life, and which she detailed in a heartbreaking opening statement to the Senate Judiciary Committee on Thursday.
Ford's testimony was released the night before the hearing, and she read it nearly word-for-word. But this was the public's first time hearing her voice, observing her demeanor, witnessing her bravery. As senator Chuck Grassley delivered his opening statement, Ford was palpably nervous; early into her testimony, she admitted that she was "terrified." As she continued to speak, her voice trembled, but she powered through her prepared statement, barely breaking as she described the alleged assault and the moment she thought Kavanaugh might kill her.
"Brett put his hand over my mouth to stop me from screaming," she told the Committee. "This was what terrified me the most, and has had the most lasting impact on my life. It was hard for me to breathe, and I thought that Brett was accidentally going to kill me."
She also revealed the devastating moment she revealed the alleged sexual assault to her husband in 2012. In a couple's counseling session, when she and her husband were remodeling their home, she insisted that she wanted to have a second front door — a request her husband did not understand at the time. It was then that Ford opened up about her night with Kavanaugh, and the way in which has caused her to suffer from claustrophobia.
"In explaining why I wanted to have a second front door, I described the assault in detail," she told the Senate Judiciary Committee. "I recall saying that the boy who assaulted me could someday be on the U.S. Supreme Court and spoke a bit about his background. My husband recalls that I named my attacker as Brett Kavanaugh."
(Kavanaugh has denied assaulting Ford, or any woman.)
To conclude her testimony, Ford spoke of what her life has been the past couple of weeks, which she considers to be "the hardest of [her] life," apart from the alleged assault.
"I have had to relive my trauma in front of the entire world, and have seen my life picked apart by people on television, in the media, and in this body who have never met me or spoken with me," she said, before proving her strength. "Those who say that do not know me. I am a fiercely independent person and I am no one's pawn. My motivation in coming forward was to provide the facts about how Mr. Kavanaugh's actions have damaged my life, so that you can take that into serious consideration as you make your decision about how to proceed."