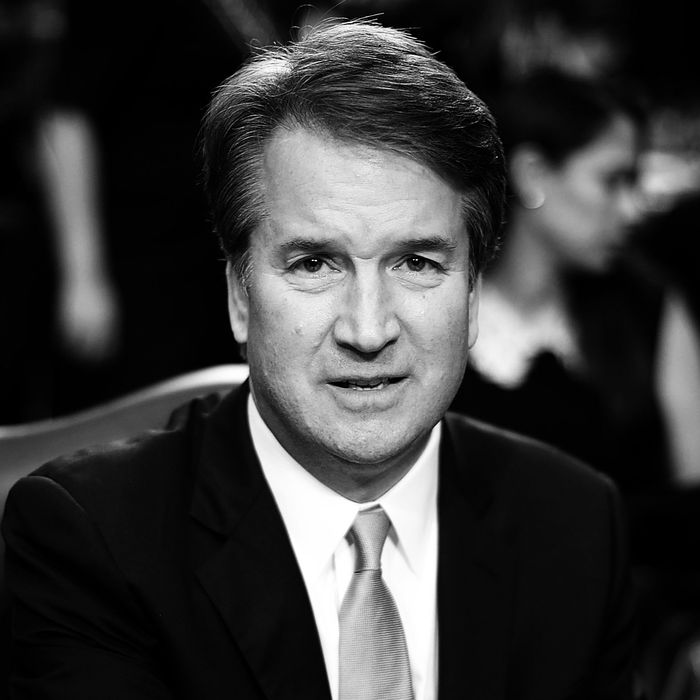 Brett Kavanaugh.
Photo: Chip Somodevilla/Getty Images
Christine Blasey Ford will testify before the Senate Judiciary Committee on Thursday that Supreme Court nominee Brett Kavanaugh sexually assaulted her when they were both teens in Maryland. On Wednesday evening — the night before the hearing — her written testimony, which she plans to read in front of the committee, was released. What Blasey Ford has to say is incredibly heartbreaking; she not only provides new information about what occurred during the alleged assault, but also speaks of how the attack "drastically altered" her life.
Ford states in her testimony that, during her freshman and sophomore years of high school, her group of friends at the Holton-Arms all-girls school intersected with Kavanaugh's group from the Georgetown Prep all-boys school. During the summer of 1982, she says, she spent most of her days swimming at the Columbia Country Club in Chevy Chase, Maryland. One evening after a day of swimming, she attended a "small gathering" at a house, with Brett Kavanaugh, Mark Judge, P.J. Smyth and one other boy present, as well as her one of her friends. Her testimony reads, in part:
I drank one beer that evening. Brett and Mark were visibly drunk. Early in the evening, I went up a narrow set of stairs leading from the living room to a second floor to use the bathroom. When I got to the top of the stairs, I was pushed from behind into a bedroom. I couldn't see who pushed me. Brett and Mark came into the bedroom and locked the door behind them. There was music already playing in the bedroom. It was turned up louder by either Brett or Mark once we were in the room. I was pushed onto the bed and Brett got on top of me.
She says that Kavanaugh groped her, grinded his hips into her and tried to take off her clothes. "I believed he was going to rape me," Ford writes. She tried to call for help, but says Kavanaugh then put his hand over her mouth to stop her from screaming. Ford states, "It was hard for me to breathe, and I thought that Brett was accidentally going to kill me." She also said that Judge alternated between egging Kavanaugh on and telling him to stop, and that "a couple of times" she made eye contact with Judge. She eventually was able to escape out the door and hide in a bathroom.
"Both Brett and Mark were drunkenly laughing during the attack," her testimony reads. "They both seemed to be having a good time."
Ford goes on to say that she kept the details of the assault — and the identity of her attacker — private until a therapy session in 2012, during which she had to explain to her husband why she needed a second front door installed during a home renovation. "After that May 2012 therapy session, I did my best to suppress memories of the assault because recounting the details caused me to relive the experience, and caused panic attacks and anxiety," she said. She reveals that she also told a few friends.
She also states in her testimony that she never wanted to go public with her allegations, but only shared the details confidentially out of a sense of civic duty. Then, after the details were leaked to the press, she felt compelled to go public with her story. "It is not my responsibility to determine whether Mr. Kavanaugh deserves to sit on the Supreme Court. My responsibility is to tell the truth," she writes.
Read the full testimony here.