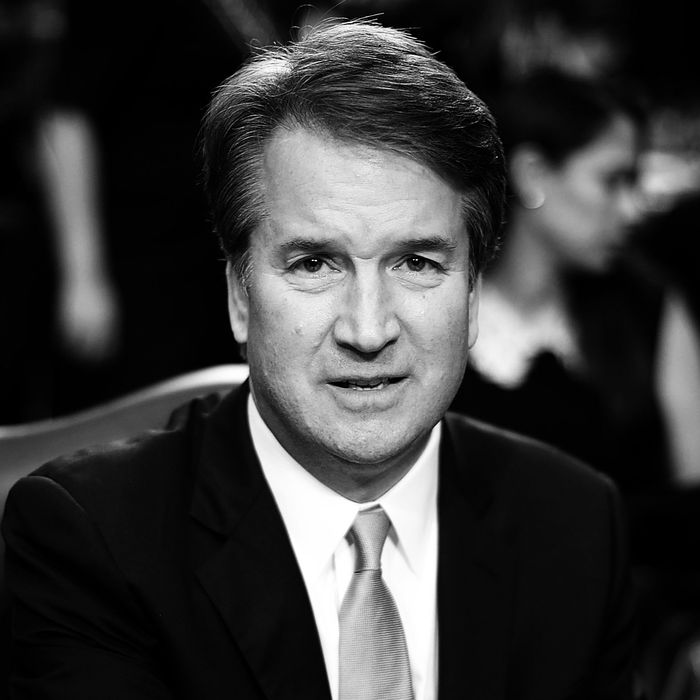 Brett Kavanaugh.
Photo: Chip Somodevilla/Getty Images
Christine Blasey Ford has until 10 a.m. on Friday to decide whether she will appear in front of the Senate Judiciary Committee on Monday to testify against Supreme Court nominee Brett Kavanaugh, the man she says locked her in a room and assaulted her when she was a teenager.
In a letter sent to Senator Dianne Feinstein yesterday, Chairman of the Senate Judiciary Committee Chuck Grassley said he will reopen the confirmation hearings to hear testimony from Ford and Kavanaugh on Monday, September 24, despite Ford's request that hearings on the allegations be delayed until the FBI can investigate the incident.
"I recognize that testifying publicly about sexual assault allegations may be difficult for Dr. Ford," Grassley wrote in his letter, "so I have offered her the opportunity to testify in any of four possible venues: (1) a public hearing; (2) a private hearing; (3) a public staff interview; or (4) a private staff interview. I am even willing to have my staff travel to Dr. Ford in California — or anywhere else — to obtain her testimony."
Ford's lawyer Lisa Banks, however, told CNN on Wednesday that Grassley's "rush to a hearing is unnecessary, and contrary to the Committee discovering the truth."
"[Ford] continues to believe that a full non-partisan investigation of this matter is needed and she is willing to cooperate with the Committee," said Banks. "However, the Committee's stated plan to move forward with a hearing that has only two witnesses is not a fair or good faith investigation; there are multiple witnesses whose names have appeared publicly and should be included in any proceeding."
All ten Democrats on the Judiciary Committee have supported Ford's call for an FBI investigation.
"I think if we're going to go ahead with a Monday hearing at the very least we should have Mark Judge testify. And the FBI agent who was responsible for the background investigation," Senator Chris Coons told The Hill on Tuesday. Judge, who Ford says was in the room with her and Kavanaugh when the assault took place, has said he is unwilling to testify and that he "did not ask to be involved in this matter."
Ford initially was unsure that she wanted to be involved in this matter as well, and said she was worried about being publicly attacked for speaking out. And indeed, since coming forward with her allegations against Kavanaugh, sources say Ford has been the recipient of so many death threats that she's had to leave her house.
"Ninety percent of people think she's a hero and are extremely supportive of her, and 10 percent want her to die immediately," an anonymous source told the New York Times. "Her worst fears are coming true."