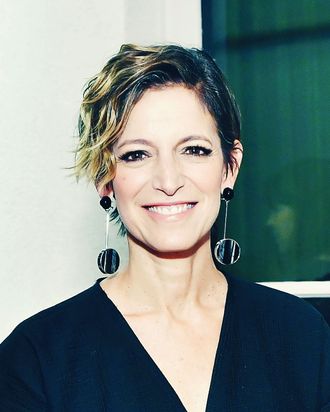 Cindi Leive.
Photo: Stefanie Keenan/Getty Images for GLAMOUR
Podcasts are the new blogs, and Cindi Leive is getting in on the action. The former Glamour editor-in-chief is joining The Barneys Podcast, where she will interview famous fashionable figures including Thom Browne, Alexander Wang, and Kelly Rowland to create a podcast that's for everyone interested in fashion. Despite the podcast's association with one of the biggest retailers in the industry, Leive says it's not going to be a "nitty-gritty, numbers, inside-the-industry" show.
"The best part of going to shows was the front-row conversations, and earlier in my career the not-so front-row conversations," Leive told the Cut. "I thought the idea of having those for a broader audience was really interesting. It's such an interesting time for the fashion industry and culture in general. People are rethinking what fashion means, what it does, and what's our part in it. It's a good time to have some interesting, neat, fun, and funny conversations."
Barneys CEO Daniella Vitale added, "We knew we wanted to bring in a host who is an authority in journalism, fashion, and in the issues we and our listeners care about. I've known Cindi for years, and I knew there was no one better."
This is just one of several post-Glamour projects for the veteran editor. She's also writing a book, working as a producer on a show for Showtime, and doing a fellowship at USC. The podcast launches tomorrow with an interview with Thom Browne in which the two discuss, among other things, dressing LeBron James. "I got to ask him the question, 'What is LeBron James bringing to an NBA finals game in a briefcase?'" Lieve said. You'll be able to find out the answer tomorrow on Apple Podcasts, Stitcher, and other podcast networks.