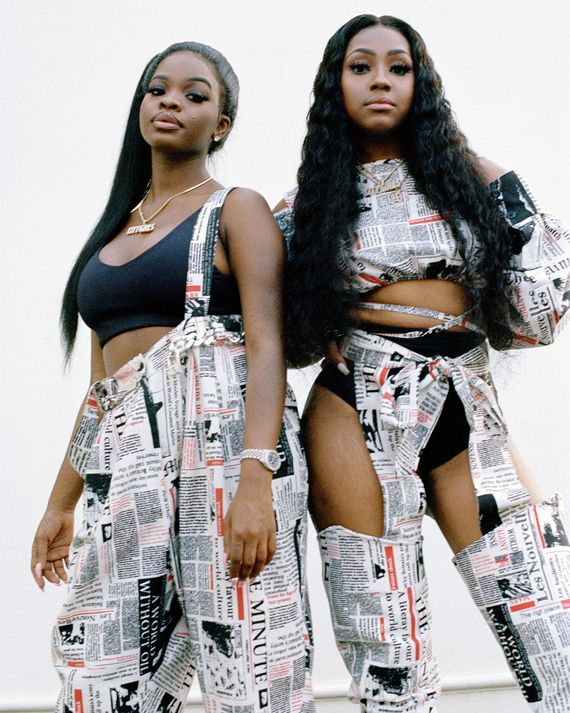 Caresha Brownlee, 24, a.k.a. Yung Miami, squats down on the stage at New York's Irving Plaza earlier this month to ask the security guard what he's doing. "Why not?" she says into the microphone, negotiating on behalf of a woman she's invited to the stage who is being denied access. Miami shifts her weight to the other hip, her thigh-length iron-straight hair falling to the other side of her shoulder, down her bell-sleeved peanut-butter-colored latex leotard. She's been allowed to bring several other fans onstage, and caused no trouble. Why not one more volunteer? The audience starts to boo; eventually, security relents.
Together with Jatavia Johnson, 25, who goes by JT, Miami is one half of City Girls, a Florida-based rap duo. This year they've experienced a remarkable, Cinderella-type come up, and have faced considerable difficulty. Since June, JT has been in federal prison, locked up on credit-card-fraud charges, which is why Miami has been performing solo on the group's first tour. In New York, she's the imperturbable center of the short, energetic set, passively nailing the simple choreography and barely moving her face, which makes her appear unbothered — but not unhappy. "We do what the fuck we want to do," she declares, after emerging victorious in the dispute with security. "Period."
The debut City Girls mixtape, named Period, was released in May, and Miami and JT have made it their signature to say "Period" at the end of their statements, to emphasize that they mean what they've said, and also as a way to show wisdom. Saying "Period" communicates that they expect to have to painstakingly punctuate their points in order to be heard. A lot of women can relate. Period.
A little over a month after their mixtape was released, City Girls annexed a piece of rap's most coveted real estate, appearing on Drake's "In My Feelings," this summer's single-best-performing song. In August, Issa Rae, the creator and star of HBO's Insecure, wrote that the group's music, which appears prominently in the show's third season, had come to "really define" its latest episodes. "In season three, Issa is trying to support herself and make the best of her situation, and trying to have fun," said Insecure's music supervisor Kier Lehman. "City Girls embodies that. Like: Even if things are tough in a lot of ways, I can still enjoy moments in my life."
It might not seem like City Girls, raised in poverty in Miami, have much in common with Rae, a Stanford graduate who spent her formative years in Los Angeles's Windsor Hills, one of the country's wealthiest black neighborhoods. But like Insecure's main characters and target audience, City Girls are ambitious, not just trying to survive but striving to unlock success. They're becoming adults at a time when young people can't count on ending up financially better off than their parents. Wages are low and job security is scarce, though there's the possibility of finding safety by developing a following online. Have you questioned your worth while seeking validation? Attempted to scrape a life together while keeping up appearances? Then the City Girls story may be recognizable to you, too.
Yung Miami and JT grew up together around Opa-Locka and Liberty City, landlocked neighborhoods about a half-hour drive from South Beach. They've been friends since childhood, starting City Girls just months ago, when JT wanted to make "a regular diss track about girls in the neighborhood" and decided Miami would be the ideal person to record with, even though she had never rapped before. But JT — who sometimes hides her braces by keeping her glossed lips closed, but slips into big grins easily — quickly assessed that their personalities complemented each other's: JT was outspoken, with a gift for talking her way into things, while Miami was more guarded, using her pageant-contestant good looks as a form of diplomacy. "Miami brings the glamour and I bring the attitude," said JT.
They uploaded their first song, which was built around a sample of the early-millennium pussy-praising classic "My Neck, My Back (Lick It)," and in late 2017 they were discovered and signed by Quality Control, the well-connected management house and label that developed Migos, the pop-chart-topping rap trio. The name City Girls was a gift from Quality Control co-founder Coach K, who was inspired by the way the duo proudly introduced themselves during their first meeting as being "from the city." "Every dude want a city girl," Coach K said over the phone from his home base in Atlanta. "A city girl has arrogance. Walk-with-her-head-up type shit. You can't run no game on a city girl. She's already been tested. When you're raised in the city, you gotta adapt. You gotta have wit."
JT tells me in an email from Tallahassee Federal Correctional Institution that her upbringing was "complicated." According to the Miami New Times, she's among the youngest of her father's 16 children. After seventh grade, she was left on her own, sometimes staying with an aunt, and other times with friends. "You gotta just do it where we from," she said in a recent video interview, recounting a story about how she learned to drive. "Nobody teach you shit. You learn from experience." Miami had a more comfortable childhood: Her mother was close with local bigwigs like the rapper Trina, and was respected as an OG around town. "Big drug dealers used to fight over her," Coach K said. "My mom's boyfriend had a lot of money at that time, and I had a good-ass childhood," Miami confirmed. "I've always been safe."
Before things took off, Miami leveraged her knack for looking nice on Instagram, where she started a business called Caresha Collection, selling clothes, wigs, and hair extensions. "I figured that if people were asking me where my outfit came from anyway, then I could make money if I was able to say: 'This is my outfit, this is my website, click on the link.'"
JT worked day jobs, at Whole Foods and Burger King. "I always had a job," she told a filmmaker who released a short documentary about City Girls in collaboration with Quality Control this August. But she still struggled to make ends meet. "Every two weeks, $500? $600? Like, what I'ma do with that? They need to pay people more. The rush with scamming was you gon' get all that stuff you wanted. In a bad way, but you was gon' get it." You can glimpse the pleasures of her life around this time in photos she posted: a digital camera for a vacation, the services of makeup artists for nights out, gifts for her niece.
Prosecutors in JT's fraud case argued that in 2016 and 2017, she used a handful of stolen credit-card numbers to buy clothes and gift cards from stores in the mall. She was arrested in June 2017 at a Nordstrom, after completing the purchase of a pair of shoes. A couple months later, she and Miami met Coach K and Pierre "Pee" Thomas, Quality Control's other founding partner, and by Christmas, City Girls had released their first official single.
JT pleaded guilty to aggravated identity theft in January, and was sentenced to 24 months in federal prison. Her lawyer provided a schedule of City Girls gigs leading up to a performance at the BET Awards in June — the judge agreed to push back her surrender date. A week before she was set to go in, her lawyer requested another delay. "This is due to a recent co-sign from Drake," he explained, citing her meteoric festival bookings and playlist placements, and concluded: "The defendant is a star." Ultimately, the requested extension was not fully granted, but JT was permitted to perform at the awards show, and finish her verse for Drake, who asked Quality Control's Pee for this favor in return: "He's like, 'Please, tell them don't change nothing.'"
Before she began serving her time, Pee encouraged JT to speak openly about her past. "I told her, 'Just embrace it,'" he said. "It's so hard to get people to believe that they'll have opportunities out here. So I was telling her don't be ashamed, that maybe she can use her platform and her choices to encourage somebody else to make a better decision." Now he's less focused on the fairness of her punishment than encouraging her through it. "People have had worse charges and got lighter sentences," he said. "But the system we're in is not designed for minorities to win. So you just gotta do your best to stay out of their system."
Unlike, say, drug dealing, card scamming is an increasingly popular crime, with a relatively low barrier to entry. "You don't have to be a criminal mastermind to pull this off," one economist told the New York Times in 2016. K'yanna Barber, a 24-year-old living in Oakland who's rumored to have been romantically connected to Drake and is thought to be the "KB" or "Kiki" he shouts out to on "In My Feelings," said that scamming has been common for years. But it's become even more prevalent recently, with the ubiquity of social-media flexing and the stress to keep up that accompanies it. "The rise of scamming is synonymous with the rise of Instagram," Barber said. I don't know if Instagram made scamming more popular or if scamming made Instagram more popular, but they go hand in hand. If you want to get designer things, nice cars, the baddest bitches who want the nicest shit, then scamming is like step one."
Even people like City Girls, who earn stable incomes from music, can feel like their claim on relevance is fragile. Social apps may nudge people to covet nice things, but most of all they incentivize engagement, paying off those who grab attention and keep fans entertained. In turn, like models, political pundits, and regular citizens, musicians often defy logic online, reshaping and upgrading themselves in pursuit of positive feedback. Has someone had plastic surgery or just applied some kind of beauty filter? Does a rapper have real beef with another rapper, or are they just performing a character, like some kind of WWF wrestler?
City Girls are familiar with the pressure to fake it until you make it, but their music is designed to give women the determination they'll need to succeed in spite of that pressure. They rap about using men to get ahead, with blush-inducing bluntness. Emerging alongside celebrity fembots who adhere religiously to social media's exaggerated beauty and lifestyle standards, their candor is pleasantly jarring, making them seem uniquely worldly wise and alive.
On "Where the Bag At," a song about demanding money, JT repeats the catchphrase I need a n**** who gon' swipe them Visas. In a song called "Millionaire Dick," Miami bargains plainly: N****, break bread, if you want head. One of my favorite City Girls songs, "Not Ya Main," can apply to any relationship a person has, not just a sexual or romantic one. Miami and JT say together: "Boy, I'm not a lame. Period! I'm not a game. Period!" Why do such basic assertions — that a woman and her time should be respected — feel so courageous and empowering?
JT has said that City Girls' straightforwardness is, in part, a response to the men in rap who belittle women and get away with it: "If you pay attention to male lyrics, when they fuck a bitch, they make fun of them." But they also speak without a filter to build morale among listeners who experience the same frustrations — like being broke, or not being taken seriously — and don't have a platform to vent. "It's not about fucking n****s for money," Miami said. "We want women to be confident in standing up to men for what they want. Not taking no shit from no man." Indeed, when you hear a woman rap "I was beating the block, like a savage / Now all I do is shop and get my ass licked," it's hard not to be delighted by the power they've managed to claim.
"I don't think they're political," said Coach, "but the situations that they've been put in are political. This world is male-dominated and crazy. Miami and JT, they're the voice for women who have voices, but don't get to use them. They're like, Oh I got a voice? Then we gon' really let them have it."
But it's tricky for any act to break through, and particularly for women. "The voices of women are missing from popular music," said Stacy L. Smith, the USC professor who, as part of the Annenberg Inclusion Initiative, published a 2017 widely read report about gender in the music industry in 2017, finding that women comprised just 16.8 percent of artists on music's top charts. This lack of representation can reinforce itself, one industry expert said. "When you put a woman's voice in a mix that's 70 percent men, it bleeds the playlist."
In this context — and in the streaming era, when fans consume personalities as much as music — an artist's chance at success can hinge on their sense of humor and likability. "As a female artist, people have to feel you as a person. If I don't like you as a person, what am I looking forward to?" asked Miami, pointing to the success of Cardi B, who in April had a record-breaking 13 songs on Billboard's Hot 100 chart. "Cardi can make you laugh. She can make you cry. You can feel where she came from, so you can actually feel happy for her." (Cardi B, who is married to Migos member Offset, is also a City Girls fan. After throwing a shoe at Nicki Minaj during a Fashion Week party in September, Cardi posted a statement saying she'd acted in response to comments Minaj made about her abilities as a mother, and captioned it "PERIOD.")
There hasn't been a chart-topping female rap duo since Salt-N-Pepa peaked two decades ago, and gatekeepers once encouraged women in rap to have co-signs from men: Trina emerged from Miami's Slip-N-Slide records, Lil' Kim from New York's Junior Mafia crew, and Mia X via the New Orleans dynasty No Limit. But Cardi B's rise may be opening a door for new social-savvy female acts, as the industry looks to duplicate her success, and technology looks to drive Cardi's fans to more relevant content.
JT's admirers have framed her as a kind of folk hero, perhaps because her predicament calls attention to gulfs in power, between men and women, or the wealthy and everyone else. It's tempting to identify with and cheer on underdogs who've challenged the status quo, even if they've violated rules along the way. "When City Girls said 'Where the bag at?' they were critiquing capitalism. 'Who gon' swipe them Visas,' is a metaphor for the redistribution of wealth to scammers and the proletariat. The 'C' in 'City Girls' stands for communism. JT is a political prisoner," Twitter user @DD_McC wrote in August, referencing the group's lyrics. However reaching, thousands of people liked and retweeted the joke in nodding response.
Yung Miami was on tour for a month this summer, and flew home to avoid missing her son's first day of school while traveling. "He'll be calling me like, Mommy where you at? I miss you. Why you leaving me? You always leaving me," she said. "It's hard when I can't be there for my baby." She's responsible for looking after her siblings as well as her son, leaning on support from her family, and her son's father's family. She weathered City Girls controversy on her own in August, when fans called her out for social posts she made in 2011 and 2013, disparaging Haitians and homosexuality. "I understand that my comments were insensitive and have offended communities of people that I love," she said in an apology.
Miami's father was once in prison, and her mother is incarcerated now. She says the day her mom went into jail "felt like a funeral." While JT's in prison, she's focused on maintaining a positive attitude. The two can talk every day, on text or video chat through the inmate messaging service Corrlinks. "It sucks for her. It's really bad," Miami said. "But I don't like to look at the negative. God's timing is always right. When JT comes home, it's gonna be the perfect time."
Listening to City Girls, you get the impression that the worst thing that could happen to a person is to be lacking, not just in money or status, but in mental stability. If you're not doing well, Miami explained, "you a hater. Don't got shit going for yourself but you be on Instagram judging somebody else's life." When attention is a currency, and when we allot much of it to the apparent success of others, it's easy to become anxious, even terrified of irrelevance.
In a June livestream with fans, JT talked about how becoming a semi-public figure had allowed her to glimpse people's worst instincts. "Some of y'all are really trolls in this world. Y'all would do anything for someone to respond to y'all negative asses," she said. Then she paused to remind everyone that she understands what it's like to feel insignificant. "Everybody on my team used to ask me, 'What is wrong with you? Why you so negative, why you so mean?' I was so negative and mean 'cause I was facing a charge!" she said. "Now I'm asking, 'Why are y'all so negative and mean?' DM me! We gon' talk about why you talk so nasty about people. Are you jealous? Are you feeling like your life is behind? You feeling like you not gon' ever make it? What's wrong?"
"I never imagined being somebody. I always thought it was a certain type of people who could make it. Not my kind of people," JT wrote to me. Now she dreams of a long career for City Girls, where she and Yung Miami "leave the game as icons, nothing less." In her life, she wants to "be rich, happy, and with my man. Starting a family and shit." Having suffered the consequences of chasing clout more directly than most, and then having earned real success legitimately, she and City Girls are in a unique position to help people feel seen, and worthwhile. "You have your days in life alone, that you feel like you just can't do it," JT said. "But you can. I can!"