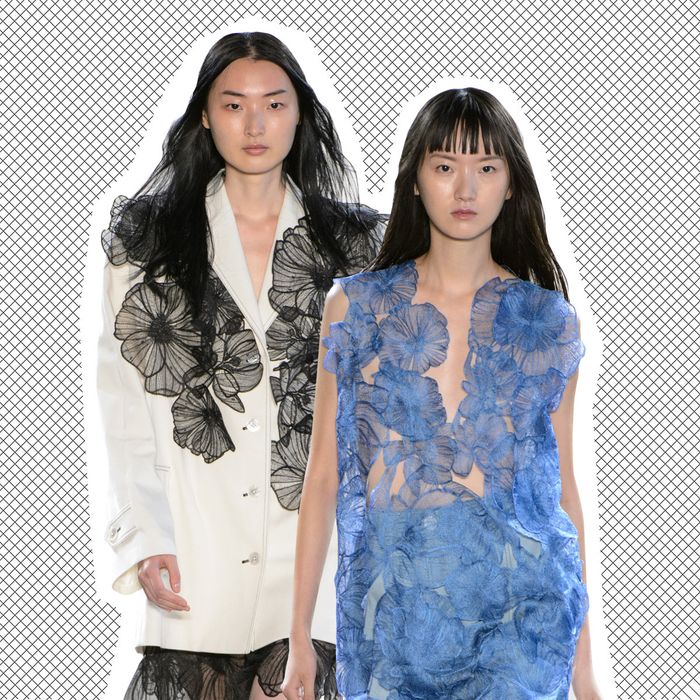 August was coined #AsianAugust following the success of Crazy Rich Asians, Netflix's To All the Boys I've Loved Before, and John Cho's Searching. That same energy has seemed to translate to New York Fashion Week with the likes of Gemma Chan, Awkwafina, and Henry Golding making the rounds at shows (we can only hope for a Lana Condor appearance!). So it's only fitting that a designer would also be inspired by the push toward better representation: New Zealand-born Claudia Li opted for an all-Asian cast for her spring 2019 collection.
Li, who is Chinese, grew up rebelling against the good-girl stereotype. "I drove without a license and ran away with a cute surfer, only to be dragged home a month later by my dad," she explains in her show notes. While creating the collection's 35 looks, Li drew inspiration from Mount Cook lilies, one of the most well-known flowers from New Zealand, as well as the low-hanging clouds that dot the country's skies. "I wanted to show my collection on 35 individual women, each with different style, personalities, and looks of their own," she explained. The result was plenty of sporty separates, including wide-legged jeans, printed oversize shirts, and delicately embellished coats and dresses.
Click ahead to see her entire collection.