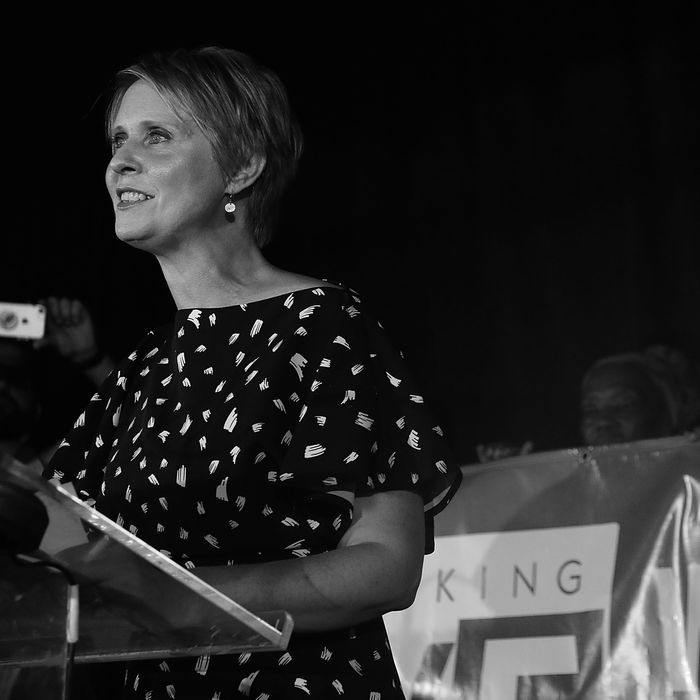 Cynthia Nixon.
Photo: Spencer Platt/Getty Images
Cynthia Nixon has lost to incumbent Governor Andrew Cuomo in the New York State Democratic gubernatorial primary. The Associated Press projected Cuomo's win just 30 minutes after polls closed, with Nixon earning 33.5 percent of the vote with 30 percent of precincts reporting.
"While the result tonight wasn't what we had hoped for, I'm not discouraged. I'm inspired. I hope you are too. We have fundamentally changed the political landscape in this state," read a portion of Nixon's statement on the results, which she posted on Twitter. "This campaign changed expectations about what's possible in New York State. We moved issues of racial and economic justice to the forefront. We shined a light on inequality, and turned the media's attention to forgotten communities across this state."
Nixon ran a campaign that challenged Cuomo every step of the way. She pushed him further left on long-held stances, including restoring voting rights for felons and disbanding the Independent Democratic Conference, a group of Democratic state senators formed in 2011 that has frequently allied itself with Republicans; she never let him forget how broken the MTA is; and she even got him to agree to a debate.
Nixon ran on a host of progressive issues, such as the legalization of marijuana, abolishing ICE, fixing the MTA, raising the minimum wage, transitioning to 100-percent renewable energy, and criminal justice reform that would address racial and class disparities. She visited the U.S. border in protest of the family separation policy, canvassed across New York, rode in steamy subway cars, and sat in the backs of rooms on floors to listen to potential constituents.
Her decision to give up the more cushioned life of an actor to enter a fierce and often unforgiving race to become New York's next governor was catalyzed by the election of Donald Trump — and further fueled by her belief that Andrew Cuomo was doing little to make a difference. Despite her loss, her run showed that there is a growing discontent with the centrist Democratic platform and particularly with a style of governing that fails to address the racial and economic inequalities in New York.
"Cuomo may be re-elected but Albany has been transformed forever," Joe Dinkin, head of campaigns for the progressive Working Families Party, told the Huffington Post. "To beat Cynthia Nixon, Cuomo had to spend tens of millions of dollars and also make serious policy concessions to progressives, from criminal justice reform to funding the subways."