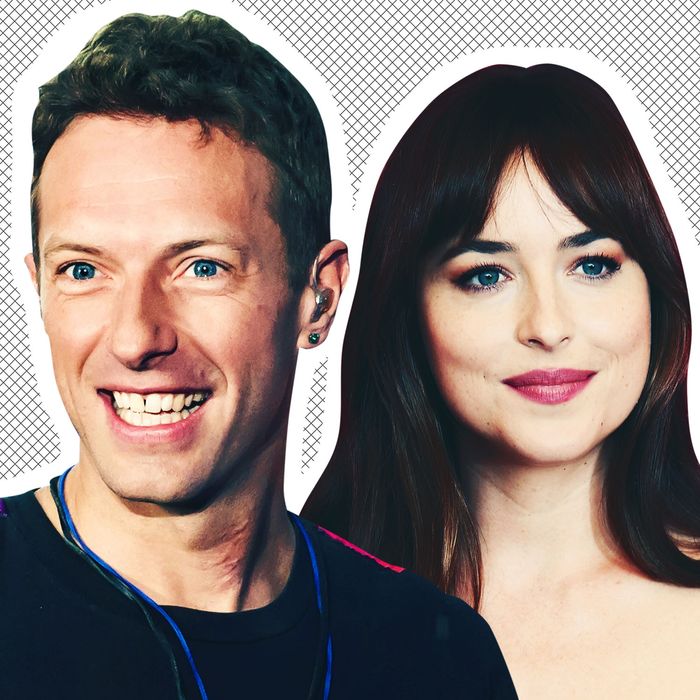 Chris Martin and Dakota Johnson.
Photo: Getty Images
The human brain can only contain so much information. Our hippocampus sifts through the vast quantities of data hurled at us every second, and decides what to keep, and what to discard. And for whatever reason, my brain has consistently chosen to discard any information about Dakota Johnson and Chris Martin, so every time I hear about them I am surprised to learn that a) they exist and b) they are dating, and this morning I was also surprised to learn that c) they have matching tattoos. Cute!
The tattoos are faint infinity signs with a little double-x or double-triangle or diamond sign on one loop, I can't really tell. Like the two of them, the specifics of it are already beginning to fade from my memory. Johnson's is just below her elbow, and you can barely see Martin's in the picture below but it's that little smudge on his forearm directly south of that bald man's ear.
The pair were first spotted together on a "mid-October sushi date in Los Angeles" People reported, and in June, a source told the magazine they were spending "a lot of time together" and that they "seem to enjoy sharing a quiet life" and "it does seem they are getting more serious." They have also been seen holding hands.
Recently, Johnson has been busy promoting her new film, the Luca Guadagnino–directed Suspiria, and Martin has been spotted watching a dog surf with his consciously uncoupled ex Gwyneth Paltrow. Commit this information to memory, or let it float away on a breeze so you can continue to rediscover it again and again, like something completely new.