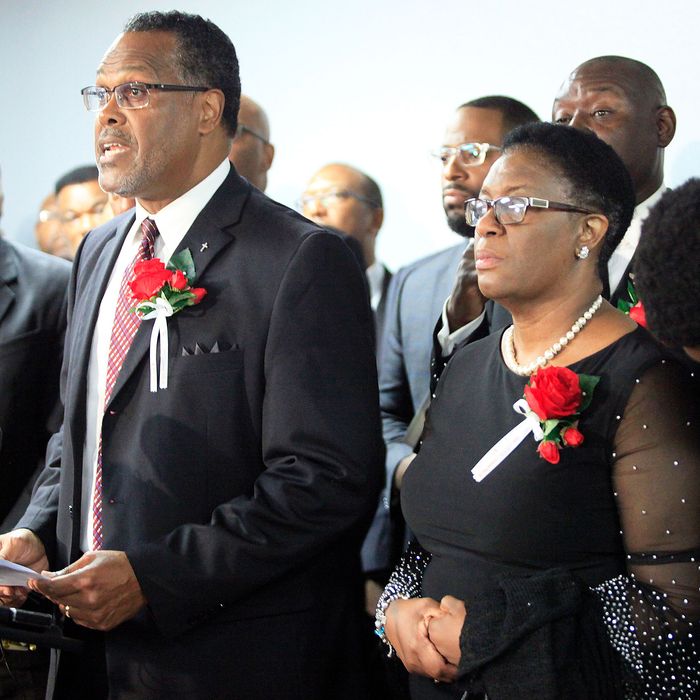 Botham Jean's family.
Photo: Stewart F. House/Getty Images
Immediately after Dallas police officer Amber Guyger shot and killed 26-year-old Botham Jean in his apartment last Thursday, investigators began looking for anything that could potentially discredit him, an attorney for Jean's family says.
"They immediately began looking to smear him," Lee Merritt, the lawyer representing Jean's family, told CBS News. According to him, a police affidavit shows that investigators were scouring Jean's apartment for drug paraphernalia, weapons, and other items used in criminal offenses. And according to court records, police eventually found something: 10.4 grams of marijuana and a marijuana grinder.
This innocuous detail quickly made its way to the press: On Thursday night, a Fox television affiliate in Dallas tweeted, "DEVELOPING: Search warrant: Marijuana found in Botham Jean's apartment after deadly shooting." The resulting outrage was swift, and unusually unified across the political spectrum.
There was one resounding argument: whether or not Jean had marijuana was irrelevant to the case. While what exactly transpired inside Jean's apartment on the evening of September 6 is contested, Jean died unarmed, inside his own apartment, at the hands of a cop.
In response to Fox 4 News's tweet, former director of the United States Office of Government Ethics Walter Shaub slammed the "despicable" report, writing, "The man was minding his own business in his home when an intruder tried to break in and then killed him."
Others swiftly expressed their disgust with the tweet, which quickly went viral on Thursday evening.
Even right-wing journalists and gun-rights activists like Ben Shapiro and Dana Loesch criticized the evidence from the search warrant for not being germane.
Fox 4 eventually changed its headline to reflect the widespread disgust over the release of the search warrant. "I think it's unfortunate that law enforcement begin to immediately criminalize the victim — in this case, someone who was clearly was the victim that has absolutely no bearing on the fact that he was shot in his home," Merritt told the outlet. "I would love to see more information coming out about the warrants executed on the home of the shooter who lived just below him. I haven't seen any of those."
Merritt said he doesn't believe the results of the search warrant will stain Jean's reputation "because he lived his life so virtuously," adding, "It's unfortunate law enforcement has taken this turn."