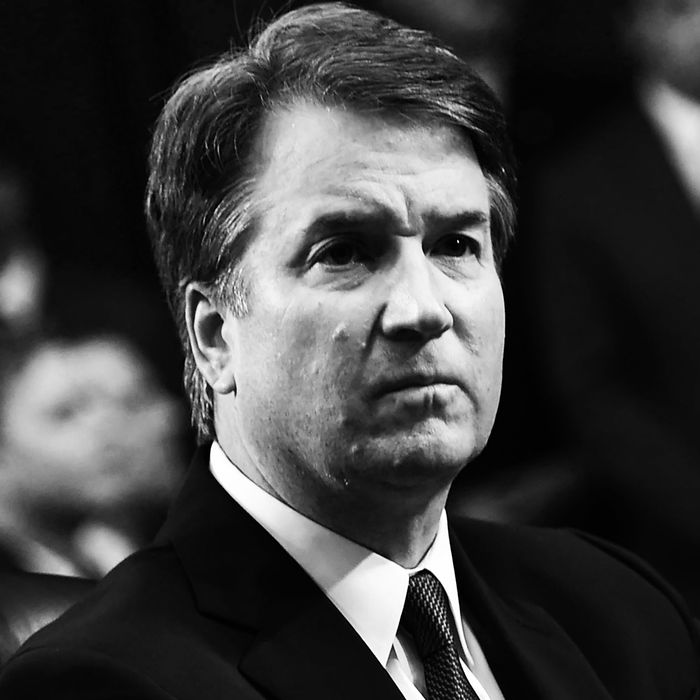 Brett Kavanaugh.
Photo: BRENDAN SMIALOWSKI/AFP/Getty Images
On Sunday night, days before the Senate Judiciary Committee's scheduled hearing over Christine Blasey Ford's sexual-assault allegation against Brett Kavanaugh, a second woman accused the Supreme Court nominee of sexual misconduct. In a new report by The New Yorker, Kavanaugh's former Yale classmate Deborah Ramirez alleges he drunkenly thrust his penis in her face, which caused her to touch it against her will, during a dorm party.
Like Christine Blasey Ford before her, Ramirez was initially reluctant to come forward with her allegation against Kavanaugh. That fear intensified after seeing the harassment and threats Ford has endured since going public with her allegation. But while telling her story to The New Yorker, Ramirez remarked about Kavanaugh's potential confirmation, "What does it mean, that this person has a role in defining women's rights in our future?" She added that she wants the FBI to investigate the claim (which Ford had also requested, but was ultimately denied).
Ramirez, now 53, told The New Yorker's Ronan Farrow and Jane Mayer that the incident occurred at a dorm party during the 1983–'84 academic year, when she and Kavanaugh were both freshmen. Ramirez says she and a small group of students — including Kavanaugh — were participating in a drinking game at the gathering, and she became drunk. A male student reportedly pointed a "gag penis" at Ramirez at one point during the evening. Per The New Yorker:
Later, she said, she was on the floor, foggy and slurring her words as that male student and another stood nearby. (Ramirez identified the two male onlookers, but, at her request, The New Yorker is not naming them.)




A third male student then exposed himself to her. "I remember a penis being in front of my face," she said. "I knew that's not what I wanted, even in that state of mind." She recalled remarking, "That's not a real penis," and the other students laughing at her confusion and taunting her, one encouraging her to "kiss it." She said that she pushed the person away, touching it in the process. 
Ramirez had been raised a devout Catholic. She told The New Yorker, "I wasn't going to touch a penis until I was married. I was embarrassed and ashamed and humiliated."
Although Ramirez admits there are gaps in her memory from that evening, she says she clearly remembers Kavanaugh standing next to her and pulling up his pants. "I can still see his face, and his hips coming forward, like when you pull up your pants," she said. Ramirez also told The New Yorker that after the alleged incident, a male student "yelled down the hall, 'Brett Kavanaugh just put his penis in Debbie's face.' It was his full name. I don't think it was just 'Brett.' And I remember hearing and being mortified that this was out there."
Kavanaugh denied the accusation in a statement to The New Yorker:
"This alleged event from 35 years ago did not happen. The people who knew me then know that this did not happen, and have said so. This is a smear, plain and simple. I look forward to testifying on Thursday about the truth, and defending my good name — and the reputation for character and integrity I have spent a lifetime building — against these last-minute allegations."
An unnamed classmate of Ramirez's told the magazine that he is "one-hundred-per-cent sure" that another student told him that it was Kavanaugh who exposed himself to Ramirez a day or two after the party. "I've known this all along," he said. "It's been on my mind all these years when his name came up. It was a big deal." However, the report states that The New Yorker has not confirmed the incident with any eyewitnesses at the party.
Read the full New Yorker report here.