Billy Cotton, the Brooklyn-based multidisciplinary designer, thinks the concept of "prefab" gets a bad rap. Having studied industrial design himself, Cotton was an ideal mentor for the Design Beyond Fellowship's first challenge dealing specifically with this subject. (Our own Design Hunting editor, Wendy Goodman, tapped him for the job.) In prepping fellows Selin Kurun, Nick Ozemba, Ajaee Shepard, and Spencer Sight for his assignment, Cotton asked them to think about designing products for mass use. And how, he asked, could that process be applied to something as integral to a home as a shower?
The fellows' mission then, was to design a freestanding, repeatable (i.e., manufacturable) shower unit incorporating the Delta Faucet HydroRain®Two-in-One Showerhead. Each emerging talent was tasked with considering how the showerhead was designed to fit a standard shower arm and to be installed in minutes, without compromising functionality or the user's experience. Ergonomics, user need, versatility to fit a variety of space, and similarly minimal installation requirements, should all come into play, Cotton advised. In addition, he instructed the fellows to design a bathroom in which the unit lives.
To spark their creativity, the fellows traveled to the Delta Faucet headquarters in Indianapolis, where they learned firsthand from the brand's industrial designers how the company designs, engineers, and manufactures products that will serve human needs long into the future. Watch the video above to see how the challenge played out. Then explore the fellows' resulting designs below, with explanations in their own words.
Nick Ozemba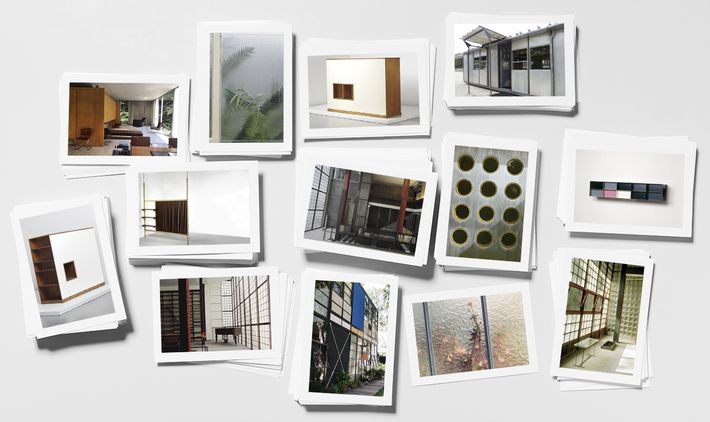 "At Delta Faucet, something that stood out to me was the modularity of their product line. Previously, they engineered an internal component so that any Delta Faucet showerhead—past, present, future—could be installed or changed. This inspired me to think of the shower unit as a module with components that can be easily attached into a simple framework. Perhaps in the future, we will have a new set of needs in the washroom that this freestanding shower unit can accommodate.
I was also inspired by the HydroRain®Two-in-One Showerhead, which allows the user to tailor their experience and engagement with the product. This brought me to the idea of developing additional modules: a private toilet room, a wardrobe, et cetera. To me, this speaks to the future of what the shower can be—not only an appliance pushed near a wall, but a tool for space planning. In this system, users rethink of the shower as being the room and experience itself. Isolating each individual component of the bathroom makes each more of an experiential ritual."
Selin Kurun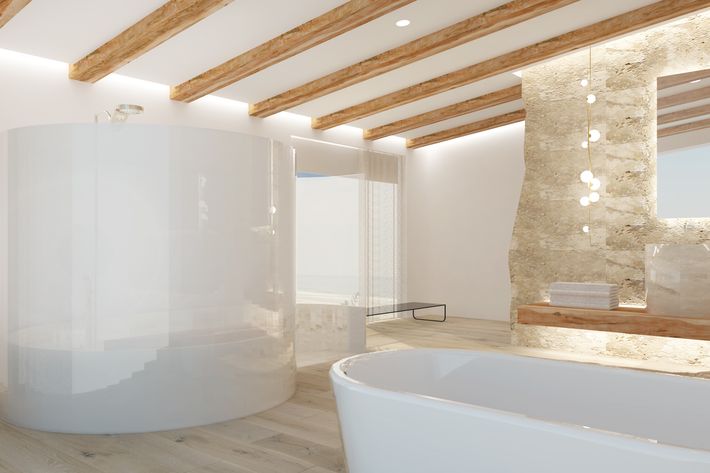 "Many of us begin our days by stepping into the shower, savoring a few moments in quiet solitude. My vision was to extend the luxurious, spa-like experience promised by the Delta Faucet showerhead into a bathroom that embodies a serene and minimal aesthetic. When I studied the product, its curves called to mind a nautilus shell, which inspired the shape of my shower unit—proving that just because it's intended to be functional and manufactured en masse, doesn't mean it can't be beautiful and organic-feeling.
My bathroom encourages the user to leave all distractions at the door, allowing them to connect with their bare self during that precious morning time. White walls are a stark canvas, embracing the home's bare architectural bones. Natural materials including timber beams, oak wood flooring, and travertine slabs nourish the senses. The continuous illumination of surfaces emphasizes both textured and smooth forms through the contrast of light and shadow. And a lighting fixture made of angular brass tubing and hand-blown glass adds a touch of luxury."
Spencer Sight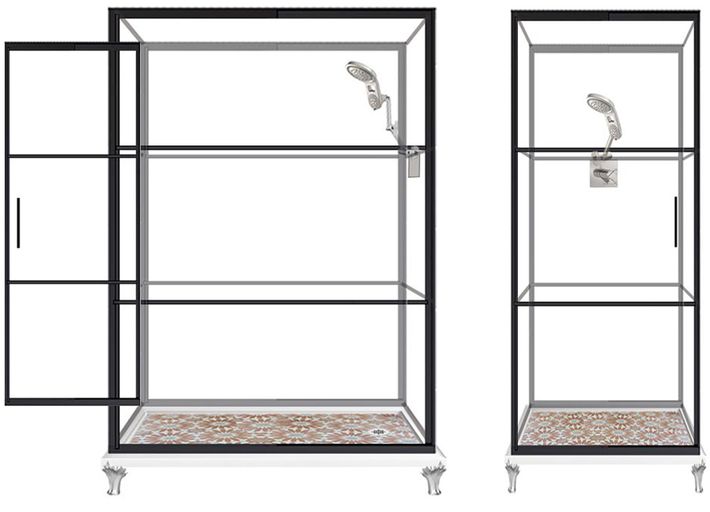 "There are so many variables in executing a normal bathroom remodel that having a streamlined process for installing a prefabricated shower—simply unpack it and shimmy it into place—would be a game-changer in the future of building. I distilled inspiration from the Japanese shoji screen to form walls, using just enough lines to discreetly camouflage the plumbing. I put a lot of emphasis on the maneuverability of the shower, so I opted for matte black, powder-coated aluminum for the frame, over bamboo. And opaque glass replaced the traditional rice paper.
Finally, I incorporated the HydroRain®Two-in-One Showerhead along with Moroccan-inspired tiles for an all-around enlivening shower experience. While the shoji screen is an ancient concept, visiting the Delta Faucet headquarters really got my wheels spinning. It was fascinating to see the team there take research on customers' needs, offer that up to their designers, and then pass it on to the engineers to make it a reality. My infinitely replicable unit is a similar exercise in bridging functionality with aesthetics, and will transform any space it's placed in."
Ajaee Shepard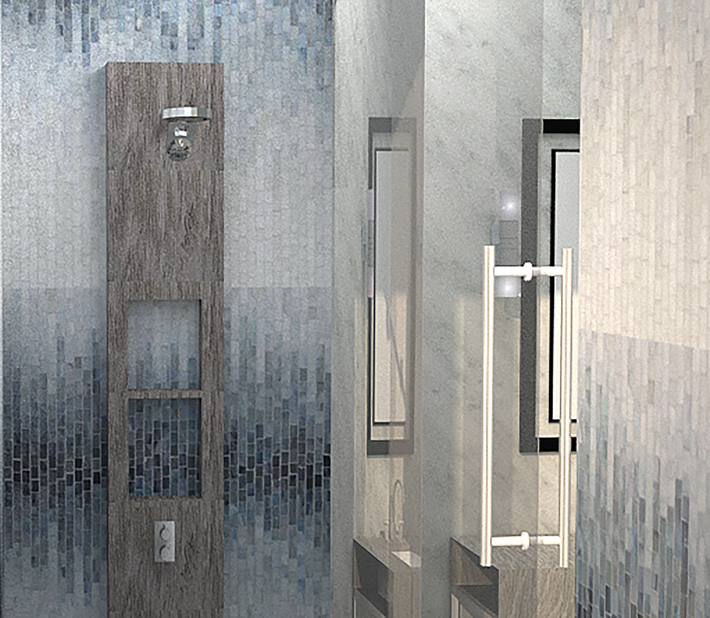 "My design is called the Energia Shower Unit. With development in mind, I thought of creating an elevated but attainable space that would be mass-produced, yet could still have a sense of individuality. I was inspired by the Greek symbol delta, which indicates change. This sparked my ideation around kinetic energy. I was further drawn to the concept of a dancer's fluid movement, changing from one position to the next. I wanted to incorporate the essence of fluidity with the use of mixed textures in order to create a dynamic space.
With the showerhead being a focal point, the teak built-in was intended to bring further depth to the unit, instead of the usual flat surface. The ombré mosaic tile represents motion and brings a sense of rhythm to the space with its blend of color. The sliding glass shower door is another feature that contributes to this conceptual movement. With the unit being customizable, I wanted the client to have an option of designing it with their favorite tiles and teak finishes. For a sleek finish, I paired a wooden vanity with chrome base along with two dual sconces for balance."
This is paid content produced for an advertiser by New York Brand Studio. The editorial staff of The Cut did not play a role in its creation.