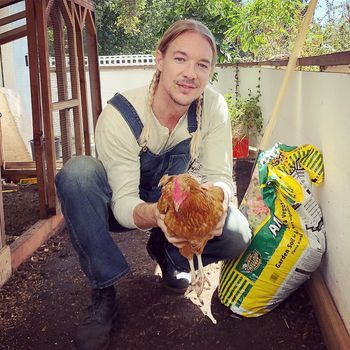 Diplo.
Photo: diplo/Instagram
Imagine going to a farm and everyone being so mean to you — the farmer saying hurtful stuff like, "Who are you? Get off my property," and his kids saying things like, "Are those crop circles?" and the cows being like "Mooo" when you tried to hide in the barn. After the police locked you in their cruiser, you'd start to think, "Um, are there any nice guys at the farm?"
Good news, there is at least one. It's Diplo. As you can see from this Instagram he posted on Friday, he has all the traits of a nice farm guy: nice overalls, nice henley, nice silken braids, nice stick to chew on, nice hands holding a nice chicken, nice bag of feed. And if you had any doubts, he captioned the picture: "I'm the nice guy at the farm."
Finally, an ally.