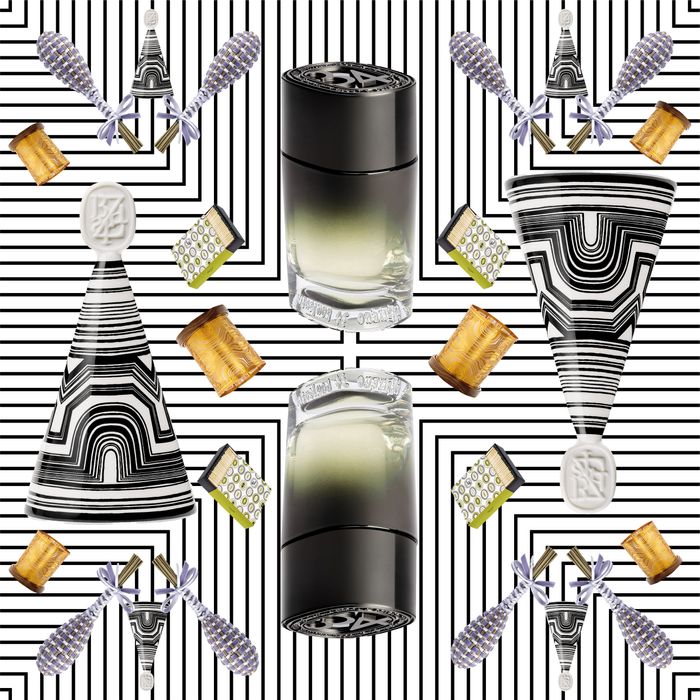 Photo: Courtesy of the Retailer
Diptyque, the French bougie brand famously well-known for its bougies has a new fancy gift collection. Named after the original boutique at 34 Boulevard Saint-Germain in Paris, the 34 Collection, is an eclectic assortment of fancy scented objects ranging from lavender-scented "wands" to ceramic candle snuffers.
Before the brand became well-known as a Top Shelf accessory, it was a bazaarlike store selling gifts from around the world. Each year, the brand does a limited-edition 34 Collection with products designed to honor its beginnings. If you're looking to impress anyone with a well-developed sense of style, history, who also likes burning things (Libra season is just around the corner), check out these highlights.
This brass candle holder is like a filter for your candle. (It's a good way to hide that Etsy candle your aunt bought you last Christmas.) It's laser-cut with the Basile pattern, created in 1963 by Diptyque founders, interior designer Christiane Gautrot and painter Desmond Knox-Leet.
It's a bird! It's a diffuser! It's both! No reeds here. It comes with a Baies refill, one of the brand's most popular scents. It's metal and uses cold diffusion technology so that the scent delicately wafts out.
This is essentially a fancy smelling stick (or wand — what's the spell for Febreze-ing?) made with lavender from Provence. You can slip it into a drawer or closet to keep the contents lightly scented.
If you're getting jealous that you can't take anything from this 34 Collection out of the house with you, then this fragrance is perfect (way easier than waving around a lavender wand). It's meant to evoke the scent of the brand's first-ever Paris boutique — a warm mix of sandalwood and vanilla.
This little snuffer is made in Portugal and showcases the Basile pattern again. It's like a festive little party hat that can adorn any shelf until it's time to put the candles out.
"Dear Diary: Today I spent $800 on fancy candle gifts for myself and I regret nothing."
If you buy something through our links, New York may earn an affiliate commission.