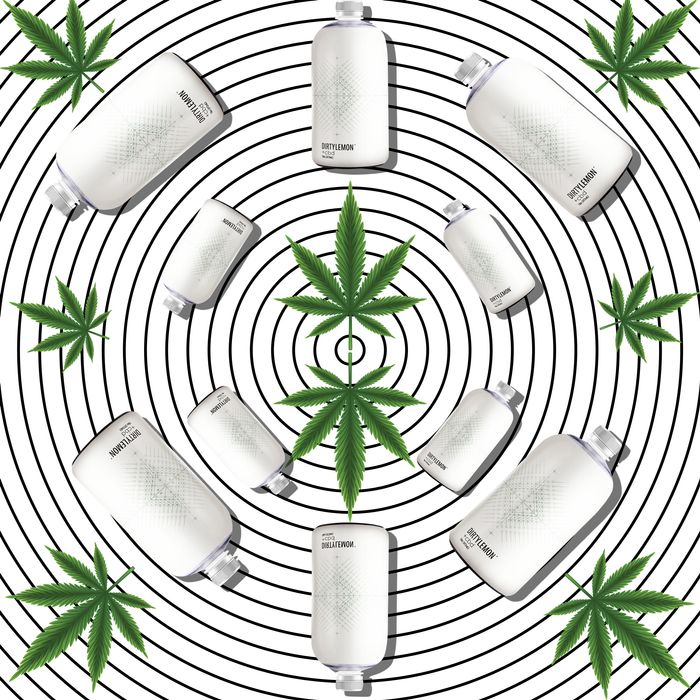 Photo: skalapendra/Getty Images, dirtylemon.com
The Dirty Lemon + CBD beverage first came to my attention on Instagram, of course. While skipping through my Stories last month, I saw the actress Minka Kelly holding a large, yellowish bottle of the trendy lemon water company's latest concoction. "New favorite morning chug," she wrote, sort of explaining the product. "Lemon juice, pineapple juice, sea salt, and CBD oh yea." Another wellness drink, I thought. Moving on.
But then, the next day, the fashion designer Pia Arrobio posted about it — twice! And so I started to keep track of all the celebrities and almost-celebrities who were trying to influence me to buy this product. Alison Brie called it her "new fav summer nights beverage"; the tattoo artist Jonboy posted a photo of it on a plane; the fashion blogger Natalie Joos posed with it in a pool. According to my feed, every coastal influencer with upwards of 20,000 Instagram followers is drinking this stuff. An ex-boyfriend of a Real Housewife of New York even posted about it. ("Flavor profile on fleek," he wrote.)
I was mildly aware of Dirty Lemon, the company, before the great CBD explosion on Instagram; celebrities including Karlie Kloss, Kate Hudson, and Cardi B have all claimed to drink the company's varietals, like Dirty Lemon + matcha or Dirty Lemon + collagen or Dirty Lemon x VOGUE (that one has something called "Acerola"). The company launched in 2015 with a coordinated influencer campaign promoting its first "detox" beverage, Dirty Lemon + charcoal, and since then, it has added every buzzy health ingredient you can imagine to its proprietary blend of lemons and water. (There are so many good qualities to it," founder Zak Normandin said of lemon juice in 2016. "It's alkalizing to your system, it clears your skin.")
Dirty Lemon + CBD was released at the end of July, and it contains 20 mg of CBD, the non-psychoactive compound found in cannabis, sourced by actress Lake Bell's upscale weed delivery company, Beboe. (Yes, Lake Bell has an upscale weed delivery company.) "You won't get high drinking this beverage," says the marketing copy on Dirty Lemon's website. "Expect mild euphoria, full-body relaxation, and a clear head."
Mild euphoria! Everyone would like that, I bet. Unfortunately, it's expensive: One "case" of six bottles of Dirty Lemon + CBD costs $65. Dirty Lemon is one of those direct-to-consumer brands, so you text them your order, and then somebody delivers it to you, like a dealer. When I discovered this information, I waivered. Sixty-five dollars is too much to pay for most anything. But I did want to taste this beverage that so many influencers decided — independently, I'm sure — to post about at once. So I emailed Dirty Lemon to inquire about reviewing the product. They sent a case to my door within four hours! This is a well-oiled marketing operation.
I have tried a CBD product once before, while reporting a story about wellness gurus in Los Angeles. It was a mint-flavored breath spray, and it tasted bad, and I did not feel better after consuming it. Plenty of people, however, love CBD, and claim it helps treat their anxiety, or their pain, or their "inflammation," or what have you. As of now, CBD has not been approved by the FDA to treat anything, but that hasn't stopped wellness and wellness-adjacent brands from adding it to their products. There are CBD lattes, CBD cocktails, CBD gummies — the influencer-approved nail salon and café Chillhouse, on the Lower East Side, just debuted CBD toast.
Dirty Lemon + CBD tastes better than that breath spray, but only just. According to Dirty Lemon, it is supposed to evoke the classic "Pineapple Express" strain of weed, so "the blend is tropical in nature, rounded out with complementary woodsy notes." On my first sip, I got a surprisingly metallic aftertaste — sort of like what I imagine it would taste like to lick the inside of a Del Monte pineapple can. Over the course of three days, I tried three different bottles of it, and I found it tasted best on an empty stomach, probably thanks to the sugar. I never managed to finish a bottle. I think the problem may be that CBD, in general, does not taste very good, even if it is sourced by Lake Bell's upscale weed delivery company.
As for the desired effects? According to Dirty Lemon, I should have felt them 30 minutes after consuming the product, but I did not notice any kind of mental or physical difference. My anxiety was the same as always. Dirty Lemon + CBD did not provide me with a sense of calm, or mild euphoria, but it did give me something better: a sense of accomplishment. I had Minka Kelly's new favorite morning chug! And Alison Brie's new fav summer nights beverage! Maybe that is worth $65 to you.