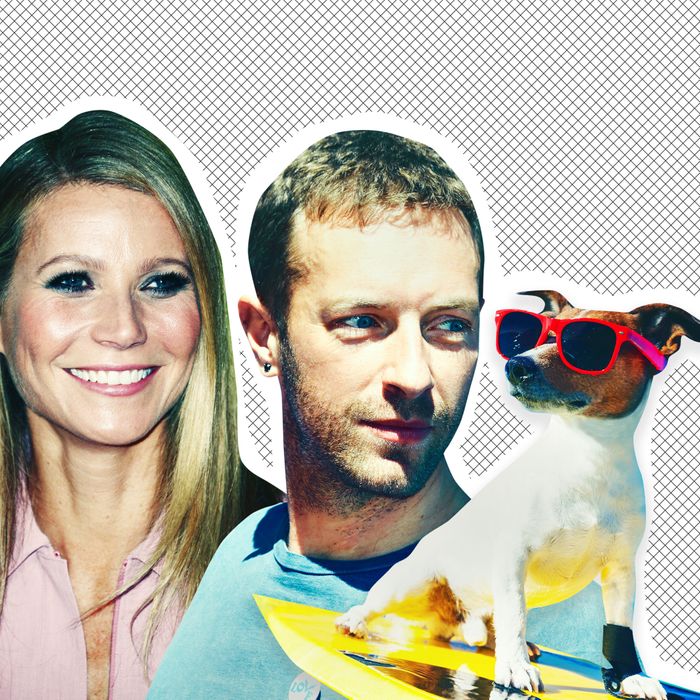 Gwyneth Paltrow, Chris Martin, and a dog.
Photo: Getty Images
"But here I am, next to you. The sky is more blue, in Malibu. Next to you, in Malibu. Next to you." Miley Cyrus sang those words in 2017. Little did she know they would gain new relevance in 2018, when, on a beach in Malibu over Labor Day weekend, former lovers Gwyneth Paltrow and Chris Martin sat beside each other and watched a dog surf for 20 minutes.
"The former couple," reported the Daily Mail, "appeared to be mesmerised as they sat on a beachside rock together and watched a man surf the ocean's waves with his pet dog." And who wouldn't be mesmerized? A happy dog surfing the ocean's waves. I can hardly think of an image more representative of summer's freedom, and of life's beautiful impermanence.
The dog-surfing-watching came just a few days after Paltrow revealed she is still legally Gwyneth Paltrow-Martin, because that is how she is known at her children's school. Whether or not she is now legally Gwyneth Paltrow-Martin-Dog after the dog-surfing-watching is a ridiculous question. I don't believe it would be frowned upon, however, if she wanted to change her name to Gwyneth Paltrow-Martin-Dog, in honor of the nice surfing dog.
While you may see the surfing dog at the Daily Mail, you may also see this video of some other surfing dogs right here, if you wish:
It's a great video.
"The pair laughed and chatted as they sat and observed the adorable pooch expertly navigate the sea under his owner's watchful eye," reported the Daily Mail, colorfully. A source told the outlet that Paltrow and Martin "took in all of the action for at least 20 minutes before pressing on with their day."
I hope we would do the same.