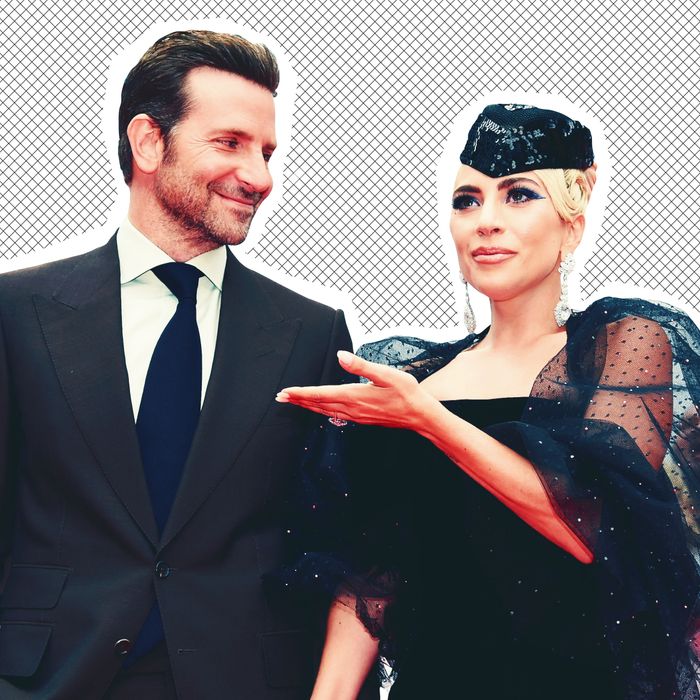 Photo: Kevin Mazur/Getty Images
Bradley Cooper and Lady Gaga are in the midst of a press tour for the widely (and, to some, oddly) praised Cooper-directed 2018 remake of A Star Is Born. We know for sure that Cooper took off Gaga's makeup with a wipe to better prepare her for the role, of course, but one question remains hovering over the press blitz: Do Bradley Cooper and Lady Gaga admire each other?
Let's see if we can figure it out.
"Lady Gaga is just kind of a revelation." — Bradley Cooper
"Watching Bradley work was phenomenal and then having him believe in me — it gave me more ammunition to believe in myself and I just feel so blessed to have had that experience." — Lady Gaga
"She leveled the entire room when she came out." — Bradley Cooper
"I think what I learned from Bradley [is] it's okay to be relentlessly sure of your vision and to go after it with every fiber of your being and to never stop white-gloving what you're making." —Lady Gaga
"I think the biggest thing I learned is that sky's the limit if you find a companion artistically, and you have a project … There is no dreaming too big. What people can do together is so much more powerful than what they can do by themselves." — Bradley Cooper
"There can be a 100 people in the room and 99 don't believe in you, and just one does. And it can change everything. I wouldn't be here if Bradley didn't believe me. My dad, and also Bradley." — Lady Gaga
"I can't imagine having the courage to do it without her." — Bradley Cooper
"If he wants to, he can do anything." — Lady Gaga
"I remember every single moment of it. From the moment she walked down the stairs, it was one of those magical things." — Bradley Cooper
"The second that I saw him I was like, Have I known you my whole life? It was an instant connection, instant understanding of one another." — Lady Gaga
"She came down the stairs and we went out to her patio and I saw her eyes, and honestly, it clicked and I went, Wow … She said, 'Are you hungry?' and I said, 'I'm starving,' and we went into her kitchen for spaghetti and meatballs." — Bradley Cooper
"I remember when we first met, after 10 minutes we were eating homemade food that she cooked — I love to eat — and that was actually a huge bond that we both came from East Coast Italian-American families. So we had a real synchronicity on that level from our upbringing." —Bradley Cooper
"We're both from the East Coast, we're both coming from Italian families, I was like 'Are you hungry?' I cooked him up some leftover pasta, and we were eating, and before I knew it, he said 'I would like to sing with you, if that's okay.' And we went to the piano, and I printed out the sheet music for a song that he wanted to sing called 'Midnight Special.'" — Lady Gaga
"She was kind of laughing at me that I would be suggesting this, but I said, 'The truth is, it's only going to work if we can sing together.' And she said, 'Well, what song?' And I said, ' "Midnight Special," ' this old folk song." — Bradley Cooper
"I sat down and started to play, and he began to sing and I just stopped instantly in my tracks, and I looked at him and I said, 'Bradley, you have an incredible voice, you sing from your gut, you sing from your soul, you sing from the nectar of your being.'" — Lady Gaga
"It was instantaneous, and I knew in this moment that I could make this film with him, and I truly believe that there's no other actor or director in the world that could have played this role or made this film." — Lady Gaga
"At Stagecoach, four minutes before Willie Nelson went on, we hopped onstage. … That was real. At Glastonbury, I got onstage in front of 80,000 people. It was nuts. But Lady Gaga is so good that if the world I'd created wasn't authentic, it would stand out in a second. Everything had to be raised to her level." — Bradley Cooper
"The truth is, I made this film with Bradley because I believe in him as a filmmaker, an actor, as a screenwriter, as a musician." — Lady Gaga
"She said, 'People are gonna think you're a rock star.' And he said, 'People are gonna think you're an actress.' They both accomplished what they said they would do." — Producer Bill Gerber
Huh. I guess they do admire each other!