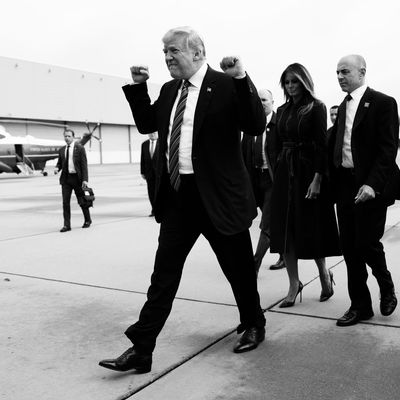 Trump headed to visit a 9/11 memorial site in Pennsylvania.
Photo: Evan Vucci/AP/REX/Shutterstock
Tuesday marks the 17th anniversary of the September 11 terrorist attacks, during which approximately 3,000 people were killed after airplanes flew into the World Trade Center, the Pentagon, and a field in Shanksville, Pennsylvania. And to the surprise of absolutely no one, President Donald Trump sure seems to be having a tough time appropriately honoring the occasion.
Trump started out the somber day in his usual fashion: tweeting about Hillary Clinton and special counsel Robert Muller's investigation into Russian interference in the 2016 election. Of course.
The president then briefly went back and forth between tweeting about "#September11th" and live tweeting the rest of Lou Dobbs's Fox News program, before posting about his attorney Rudy Giuliani, whom he once reportedly referred to as a little baby who needs his diaper changed:
Trump, of course, then continued to tweet — and excitedly reminded us just how long it's been since the attack:
Shortly after, Trump and his wife, First Lady Melania Trump, arrived at an airport in Johnstown, Pennsylvania. They were en route to visit the Shanksville memorial site of United Flight 93. But upon arrival, the president had a rather … odd … reaction: he was photographed emphatically pumping both of his fists.
Immediately after the fist pump, Trump and the First Lady appeared to be having a great time greeting supporters at the airport.
Later, when it was time for Trump to give a speech at the Shanksville memorial site, the president walked up to the podium — while pointing at people in the crowd and mouthing the words "thank you" as they clapped for him. That moment occurs around the 56:50 mark in the longer video here, but a shorter clip of his speech, during which he slowly read aloud from a teleprompter, is below.
The president and first lady also walked around the Flight 93 National Memorial with the park's superintendent. Naturally, Trump couldn't resist giving photographers a big thumbs up as he enjoyed himself on the tour.
Then it was back to Twitter, so he could share a Breitbart link about "small business optimism."
We will continue to update this post throughout the day as Trump attempts to mourn a national tragedy.
This post has been updated.