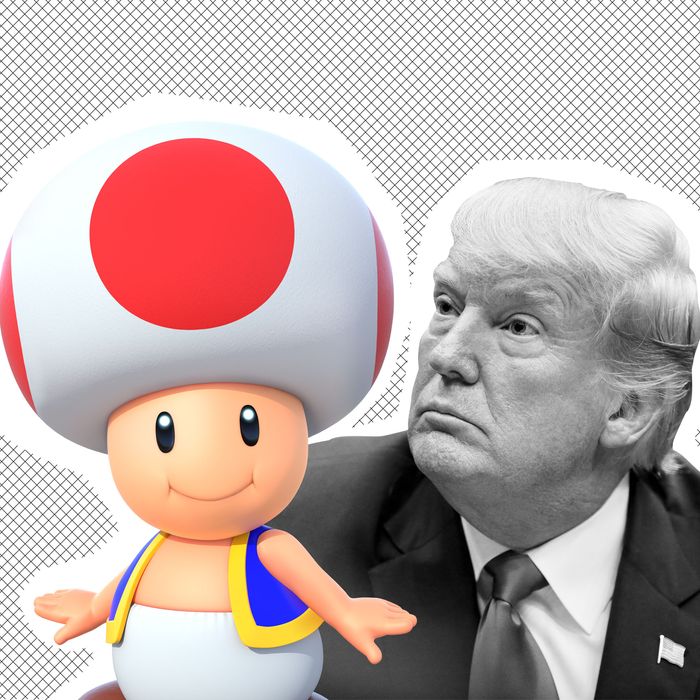 Toad from
Mario Kart
(left), Donald Trump (right).
Photo: Nintendo/Getty Images
Well, we can't say we weren't warned. In April, Stormy Daniels's attorney Michael Avenatti revealed that the adult-film star could "describe the president's genitalia in great detail." Now, in her new book Full Disclosure, Daniels apparently does vividly explain President Donald Trump's penis after all, much to the world's chagrin.
The Guardian obtained a copy of the book, and has shared all the phallic information about the president that we've never wanted to know and now cannot unread. First, the book goes into detail about Daniels's disbelief at seeing Trump winning the Republican primary ("He doesn't even want to be president," she recalls thinking). She also writes of her fear about having such a sensitive story about the president, and her decision to sign a $130,000 hush agreement to not discuss their alleged affair.
But then, the book goes south, erm, quite literally, when Daniels describes a night she spent with Trump. Per the Guardian:
She describes Trump's penis as "smaller than average" but "not freakishly small."




"He knows he has an unusual penis," Daniels writes. "It has a huge mushroom head. Like a toadstool …




"I lay there, annoyed that I was getting fucked by a guy with Yeti pubes and a dick like the mushroom character in Mario Kart …




"It may have been the least impressive sex I'd ever had, but clearly, he didn't share that opinion."
So there we have it: Stormy Daniels, a woman who was paid to stay quiet about allegedly having sex with Donald Trump, says that his small penis looks like the mushroom character (ID'd by Kotaku as "Toad") in Mario Kart, and that his pubes are like those of a Yeti.
"Toad from Mario Kart" is pretty self-explanatory, but what could "Yeti pubes" possibly mean? To find out, the Cut spoke with Yeti expert Daniel C. Taylor, the president of Future Generations University and author of Yeti: The Ecology of a Mystery, published by Oxford University Press. "Talking about Stormy Daniels is not what a university president or scientist normally does," he said as a disclaimer, before kindly taking our questions about Yeti pubes.
Taylor explained that there are three different versions of Yetis out there: the real one, which is the Asiatic black bear; mythical beasts of Sherpa legend; and the abominable-snowman-type Yetis of popular culture today. The scientist went on to say that a real Yeti's hair is black and bristly. "For the real Yeti, which is the bear, it looks like any bear that you see at the zoo," he said. "The Himalayan Asiatic bear has got thicker fur than our American black bear."
So, does that mean Daniels is saying that Trump's pubes are thick, black, and bristly? Not necessarily. "I assume she's talking about the mythical Yetis, because I don't think she's studied the literature or Sherpa culture," Taylor said. "Most mythical Yetis now — and I think Walt Disney had something to do with this — are considered to be white, furry, and have stiff fur on them." Good to know!
This post has been updated to include the interview with the Yeti expert.