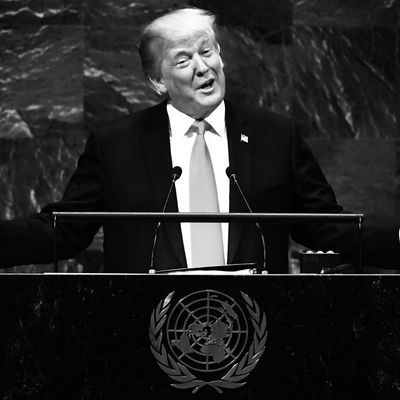 President Donald Trump at the U.N. General Assembly.
Photo: TIMOTHY A. CLARY/AFP/Getty Images
On Tuesday morning, President Donald Trump delivered a speech at the U.N. General Assembly, during which he attempted to brag about all the so-called "accomplishments" of his administration. But Trump's statement was met by a reaction he didn't quite expect — the U.N. audience immediately burst into laughter.
As seen in video that's already circulating online, will soon be etched in your brain forever, and should probably be stored in the National Archives for future generations to enjoy, the president apparently didn't intend to deliver an inadvertently good joke at the U.N. General Assembly during his speech; however, he did just that the moment he opened his mouth.
"In less than two years, my administration has accomplished more than almost any administration in the history of our country," Trump began. He then said, "America's …" before nodding at someone in the crowd and saying, "So true," as the audience of the U.N. General Assembly (which was largely composed of foreign leaders and ambassadors) started to laugh.
The audience continued to laugh as Trump said, "Didn't expect that reaction, but that's okay."
Then, they laughed some more, and we laughed, and everyone else in the world laughed. But then we all remembered the state of things and why exactly his statement prompted such vociferous laugher, and we all went back to being sad again.