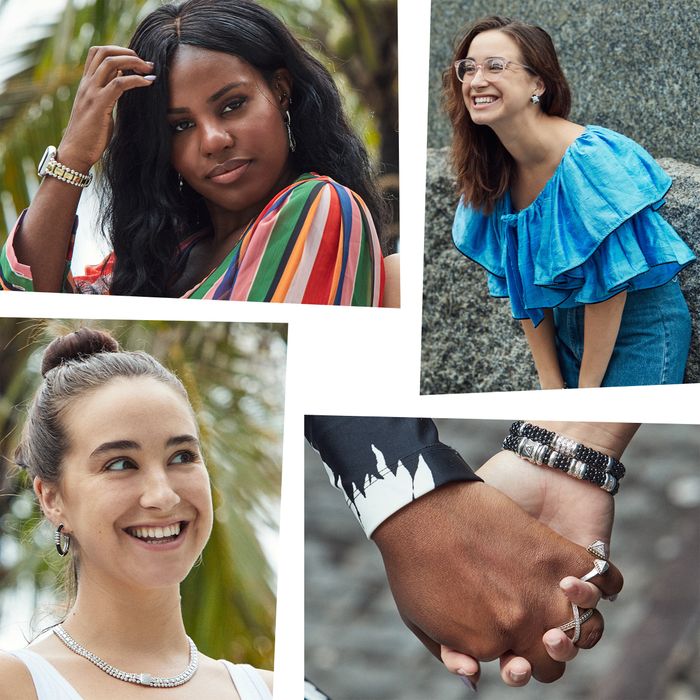 For those who attend New York Fashion Week shows, street style is a chance to get creative with your wardrobe in front of an audience of people who will never judge you for loving clothes. Attend enough shows and you'll know what not to wear (shoes you can't walk in) and what makes you feel the most comfortable. The Cut's Instagram editor Emily Sundberg and fashion partnerships editor Indya Brown documented five days of their Fashion Week style. Scroll below to see every outfit.
Day 1
The first few days of Fashion Week, you feel the most excited about styling choices: you're full of anticipation for the shows, and that translates into your outfits. It may have felt like summer outside, but we broke out autumnal tones like chocolate brown, terracotta, and golden yellow.
Emily's Day 1 Outfit
Day 2
Damp wet weather goes about as well with street style as ketchup and peanut butter (poorly, unless you have very unusual taste.) But there are ways to deal with the rain: umbrellas, hiding in the subway, running through it and embracing it (shown here.) "These faux leather pants were actually a great repellent to the rain," Emily said.
Emily's Day 2 Outfit
Indya's Day 2 Outfit
Day 3
In the middle of a packed day of shows, we took a much-needed break and shelter from the rain to eat to our heart's content at Saluggi's. Emily said, "I feel like Sophia Loren eating pizza in animal print."
Emily's Day 3 Outfit
Day 4
There are a lot of great accessories out there — tiny bags, big scrunchies — but are we talking about unnecessary shades enough? Indya's sunglasses had little purpose on a rainy day, and Emily's glasses were, well, totally fake, but both really added to the Fashion Week lewk.
Day 5
By the last day, you're sweaty, tired, and fatigued, but the reward is seeing all of the amazing productions like Maryam Nassir Zadeh and Michael Kors. It's like finishing a marathon — you've got to pace yourself. We planned our outfits around smart kitten heels and took a quick break in front of beloved Soho taco spot Lupe's.
Indya's Day 5 Outfit
While each product featured in this story is independently selected, it may include paid promotion or additional compensation from our partners.