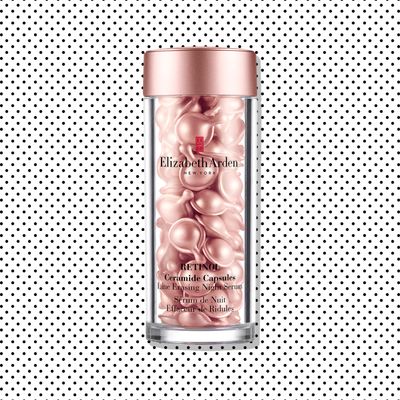 Photo: Courtesy of Elizabeth Arden
Want to feel like you're using a product from a cool teen's skin-care routine in a sci-fi movie? Elizabeth Arden is putting retinol in tiny pouches with their new Retinol Ceramide Capsules Line Erasing Night Serum. So, how exactly do these little serum envelopes push the skin-care envelope?
As you would expect, there's retinol (duh) in this product. Retinol is a vitamin-A derivative that is essentially the OG of skin-care ingredients. It does a little bit of everything, from evening out skin tone to reducing dark spots and diminishing breakouts. But it can be a little harsh on skin, so it's paired with moisturizing ceramides.
Ceramides, if you want to get super technical, are "waxy lipid molecules." They occur naturally in the outermost layer of your skin and are responsible for retaining moisture and keeping it looking plump. Together, the retinol-and-ceramide formula helps to smooth skin. They're hanging out in these cute little whoopee cushion–like receptacles because exposure to light and air can actually reduce their potency. A capsule is also the ideal vehicle for a serum, since the portion is already determined for you, nixing any wasted product or guesswork involved.
This is not the first foray into beauty-by-capsules for the brand. The original Ceramide Capsules filled with their Daily Youth Restoring Serum have been around for a while. The initial reviews for this new retinol version (as seen on the brand website) have been positive. Plus, they're rose gold pink.
Photo: Courtesy of Elizabeth Arden
If you buy something through our links, New York may earn an affiliate commission.