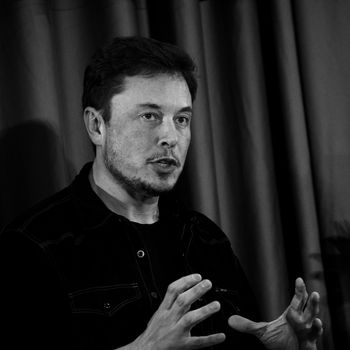 Musk.
Photo: Patrick T. Fallon/Bloomberg via Getty Images
It isn't clear if Elon Musk is capable of stopping his antics, but it doesn't seem like he's going to. In an email to BuzzFeed News, Elon contradicted his previous apologies and stood firmly behind his initial accusations that the British diver Vernon Unsworth, who helped rescue the soccer team from a cave in Thailand, is a pedophile.
His accusations this time around included more context than his now-deleted tweets, but no actual evidence. Elon began the email to BuzzFeed reporter Ryan Mac with a suggestion.
"I suggest that you call people you know in Thailand, find out what's actually going on and stop defending child rapists, you fucking asshole," he wrote.
He then goes on to say that Unsworth is "an old, single white guy from England who's been traveling to or living in Thailand for 30 to 40 years, mostly Pattaya Beach, until moving to Chiang Rai for a child bride who was about 12 years old at the time."
BuzzFeed News was unable to verify any of the accusations Elon made, and he provided no further evidence. They spoke with Woranan Ratrawiphukkun, 40, Unsworth's girlfriend, who confirmed their seven-year relationship.
Elon brought up the accusations again in a Twitter exchange at the end of August, apparently deducing that because Unsworth hasn't sued him yet, Unsworth is, in fact, a pedophile.
BuzzFeed News initially reached out to Musk about reports of Unsworth filing a lawsuit against him for his initial pedophile accusations. Musk's actual address to potential legal issues was the statement: "I fucking hope he sues me."
It's hard to pinpoint Elon Musk's motivations to launch this particular attack, and then stick with the allegations all summer. It might have something to do with the fact that Unsworth's rescue of 12 children rendered Elon Musk's miniature submarine, created specifically to rescue those children, useless.
Or maybe his renewed vengeance towards Unsworth is linked to his troubled love life; he and Grimes unfollowed each other on social media recently, and it's unclear if Grusk™ is still happening.
Either way, Tesla is sticking with their man. When BuzzFeed reached out to the company about his most recent statements, the company referred back to a previous statement of support.
Why the CEO of a tech company is choosing to fall on this sword is beyond any reasonable guess. The man is a billionaire who spends too much of his time on Twitter, making erroneous announcements and tweeting about Tesla-branded, thigh-high sock boots.