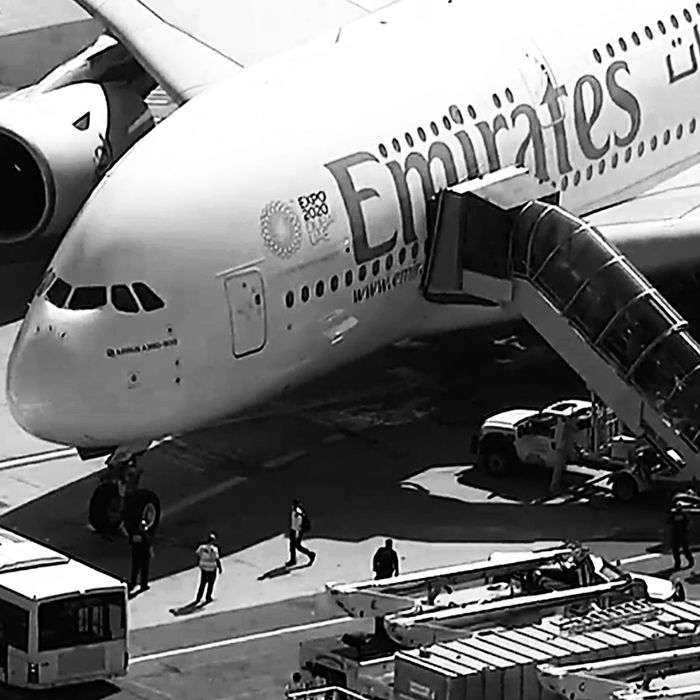 Emirates Airlines flight EK203.
Photo: AP
On Wednesday morning, alarming reports began to emerge of a possible Contagion-type scenario at New York's John F. Kennedy airport, where an Emirates Airlines flight from Dubai had been quarantined after 100 passengers fell ill aboard the plane. Details were hazy, and constantly changing, and Vanilla Ice was somehow involved. Here's everything we know about the flight.
The flight was Emirates Airlines Flight EK203.
After a 14-hour flight which departed from Dubai at 3:21 a.m., the double-decker A380 and its 521 passengers landed at JFK at 9:18 a.m. on Wednesday morning. It was a direct flight and did not, as an early tweet from Eric Phillips — the press secretary for Bill DeBlasio — said, stop in Mecca.
According to Gizmodo, before landing, the pilot contacted ground control to say that two male passengers had fevers, and 100 passengers were "coughing non-stop." Once it was grounded, the plane was taken to a location away from the main JFK terminal, and swarmed with emergency response units including FDNY ambulances, police, and Homeland Security.
Initial reports said around 100 passengers were ill with "intense coughing" and "fevers."
At 9:46 a.m., ABC transportation reporter Sam Sweeney tweeted that the plane was in quarantine after "100 passengers became ill with fevers over 100 degrees."
A CDC spokesperson confirmed the number of sick passengers to Gizmodo, stating, "Approximately 100 passengers, including some crew on the flight, complained of illness including cough and some with fever. CDC public health officers are working with port authority, EMS, and CBP officials to evaluate passengers including taking temperatures and making arrangements for transport to local hospitals for those that need care."
One passenger, Erin Sykes, told the Associated Press that a few passengers were hurried off the plane for medical attention, but that "many, many" more were exhibiting flu-like symptoms, including "Very intense coughing. Violently sick. Going into the bathroom a lot."
Some passengers appeared to be sick before the flight.
Sykes, who tweeted scenes from the flight, also told NBC News 4 New York that she was concerned about her health even before boarding the flight.
"When they were standing in line to board, people were coughing," she said. Sykes said she asked a flight attendant for a mask, but was told there weren't any onboard, so she "proceeded to put my jacket and the blanket over my head for the entirety of the flight because so many people were coughing, and so dramatically."
Officials evaluated all the passengers and crew onboard.
In a statement to the Cut, CDC spokesperson Benjamin Haynes said the CDC worked with local officials to complete health evaluations, including taking temperatures, of all the 549 passengers and crew members onboard.
Passengers also tweeted that they were asked to fill out a CDC locator form indicating where and how they can be reached for the next three weeks.
Around ten passengers were taken to a local hospital.
Exact numbers differ slightly. According to Haynes, 11 people were taken to a local hospital, and according to a statement from Emirates Airlines, ten were, including seven passengers and three crew members.
Phillips, the press secretary for DeBlasio, also tweeted that nine other individuals were sick, but "refused medical attention."
All the remaining passengers were released.
No, Vanilla Ice was not on the plane.
At 12:41 p.m., rapper Vanilla Ice stirred up even more excitement when he tweeted that he "just landed from Dubai and now there is like tons of ambulances and fire trucks and police all over the place."
He also added, "This is crazy. Apparently there is over 100 people sick on the bottom floor, so happy I'm up top, it's a double-decker plane 380."
As Gothamist writer Jake Offenhartz noted, though, Mr. Ice in fact probably arrived on a later Emirates Airlines flight that was scheduled to land at 2:15 p.m. The rapper has neither confirmed nor denied this.
So wait, what exactly made everyone sick?
It's still not entirely clear. Initially, an Emirates spokesperson suggested it was food poisoning, but that was then dismissed. Phillips tweeted that health officials are still processing tests to determine the cause, but that symptoms are pointing to the flu.
In a statement, Port Authority Executive Director Rick Cotton said the CDC will "provide further updates as they become available."