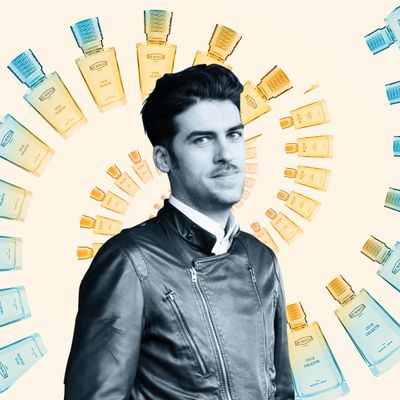 Photo: Courtesy of Ex Nihilo
Call it the Proust effect: Memories are often triggered by smells. Scientific studies confirm that out of all the senses, smell offers the best recall. In Scent Memories, the Cut asks people about the scents they associate with different times in their lives. Next up is Benoît Verdier: co-founder of Parisian perfume house Ex Nihilo. The newest launch from the brand, Cuir Celeste, is meant to evoke "the protective warmth and sensuality of leather aerial armour." The Cut spoke with Vernier about figs, subways, and sneakers.
My first scent memory is: I'm from the south of France, so it would be the scent of my childhood garden, especially the figs from the garden.
Happiness smells like: The opening day of Ex Nihilo four years ago. It was such a big achievement for us. I think happiness would be the scent of all our creations.
Love smells like: Fleur Narcotique on my wife's skin.
Friendship smells like: Red wine.
Heartbreak or loss smells like: Various subways. When you take the Metro in Paris, it smells like something very strange, but at the same time it's appealing.
Regret smells like: The smell of leather from my vintage motorbike. I regret selling it.
Vacation smells like: Figs, pine trees, and the Mediterranean.
Sunday morning smells like: Coffee and croissants, because we live in Paris.
Monday morning smells like: Depressing, because I don't want to go to work.
My home smells like: A mix of different prototypes of Ex Nihilo. At the moment it's Cuir Celeste, our new fragrance.
A pleasant surprise smells like: Sneakers. It's every time I open a box of sneakers and smell the mix of glue and leather and materials.
If I could have one smell on my hands forever, it would be: Something fresh and sparkling, like orange blossom.
I smell like: Well, in my youth I used to smell like spirits. Now I smell like someone who likes to succeed and is ambitious, but I also smell like authenticity and passion.
If you buy something through our links, New York may earn an affiliate commission.