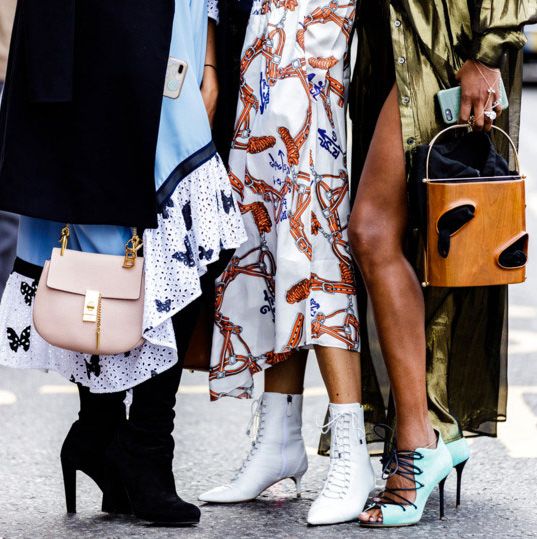 Photo: Image courtesy of the retailer.
With September wrapping up, it's time to stop thinking about how to get a bit more wear out of your sandals and start thinking about new fall shoes. After combing through street-style photos for inspiration, we've narrowed down our favorite fall shoe trends — the ones that are both fun to look at and reasonably practical in bad weather. From Western-style boots to animal prints, here are the best fall shoes to buy at every price point.
Cowboy Boots
Calvin Klein's spring 2018 show brought back cowboy boots with a bang, and designer from high-end to high street have followed suit. Still, it's hard to figure out exactly how to wear the Western trend without looking like you're in a costume. Personally, I think the trick is to pick cowboy boots in graphic white or black, or a bold solid color. If you buy them in brown or find ones with fringe, you'll look a little too on-the-nose. For styling, try pairing them with tights and dresses or wearing them under straight jeans.
Photo: 18-08-09 Accessories AM1 B8 tedketterhagen W
Animal Prints
This season's animal prints are less kitschy and more sleek. Think snakeskin or calf-hair leopard in modern, ladylike shapes. This is a trend that keeps coming back every fall, but for good reason — it's fun and surprisingly easy to wear. You can't really go wrong, whether you dress in neutrals and make your shoes the focal point of your outfit or contrast your spots with other prints.
Photo: Courtesy of the Retailer
Photo: Courtesy of the Retailer
Primary Colors
Do I think of Ronald McDonald every time I see a pair of mustard-yellow boots? Well, yes, but I still love this trend because it's so incredibly easy to wear. All you have to do is pull on a pair of boots in Crayola red, yellow, or blue and suddenly your jeans-and-a-sweater outfit looks a lot more interesting. If you're feeling adventurous, you can also take it to the next level with an all-primary-color look.
Lace-Up Boots
I like to think of these as fashion's way of making utility boots a little bit cuter. What's nice about this trend is that it comes in many forms, from classic Doc Martens that you can wear with dresses when it's slushy outside to lace-up Victorian boots that will fancy up your jeans. Regardless of your personal style, there's an option for you.
Close-Toed Mules
Mules have been trendy for a while now, but the moment shows no sign of ending, especially since the Gucci mules that started it all are still popular both on and off the runway. Heeled mules in particular work for almost any occasion. They're my favorite alternative to stilettos, and I like that you can wear them bare-legged now and with tights later on.
If you buy something through our links, New York may earn an affiliate commission.