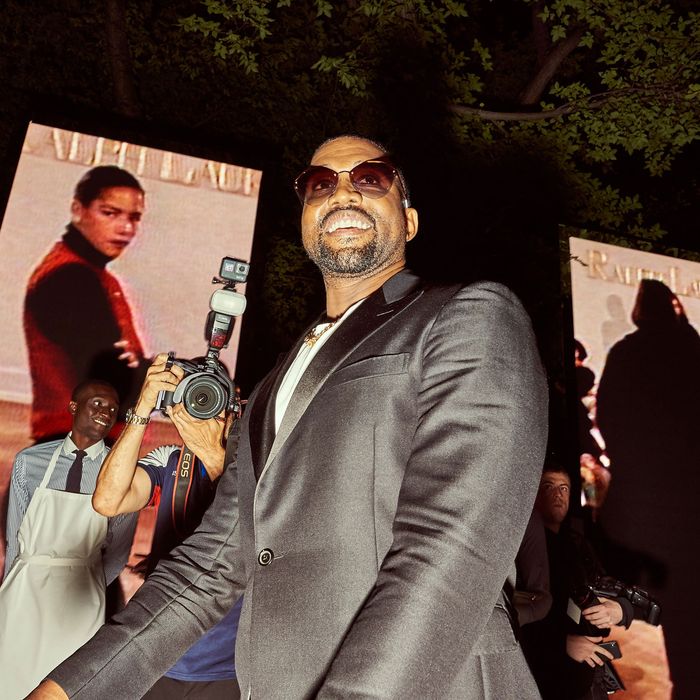 Kanye West at the Ralph Lauren show.
Photo: Victor Llorente
The Cut's editors cover New York Fashion Week on this website, but also all day long on Instagram. Follow our accounts to get the inside view on everything that's going on, and check this daily compendium for highlights. President and editor-in-chief Stella Bugbee, interim fashion director Dora Fung, beauty director Kathleen Hou, senior market editor Diana Tsui, fashion market editor Lindsay Peoples, fashion news writer Emilia Petrarca, and more of the Cut's team will all be contributing to coverage.
Day Two
Spoiler alert: Friday night ended with an Oprah sighting, and Kanye West got a reporter kicked out of Ralph Lauren's 50th anniversary extravaganza. But let's back up a little …
At Christopher John Rogers's first Fashion Week presentation, the 24-year-old designer cast artists, models, and dancers to wear his elegantly Instagrammable (comfortable!!) evening wear.
Later in the day, Mara Hoffman's presentation was a true treat for the eyes. Styled by Rachael Wang, Hoffman's gowns were made to be worn with ease by women who want to feel beautiful. Or by anyone who wants to use a lot of rose emojis.
Collina Strada's show was a crystal- and wellness-filled event, sound bath included. It's 2018, man!
When you think Martha Stewart, do you think New York Fashion Week? Well, you should! On the Daily Front Row red carpet, Stewart said she's been attending Fashion Week for years. This year she looked as elegant as ever in a heatwave-perfect shirt dress.
The night ended with a Central Park celebration for Ralph Lauren. Oprah was there. Gigi Hadid was there. Newly-engaged Nick Jonas and Priyanka Chopra were there. Looking good, kids!