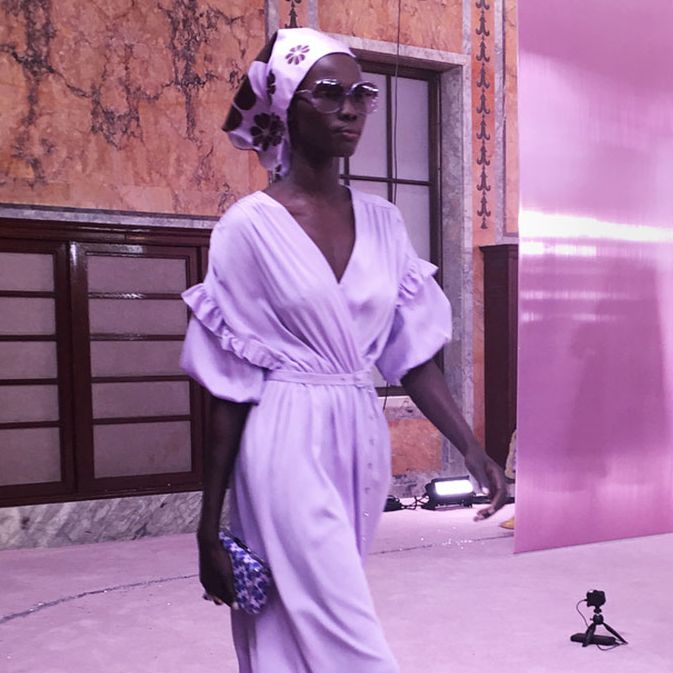 Kate Spade's presentation was overwhelmingly purple.
Photo: Stella Bugbee
The Cut's editors cover New York Fashion Week on this website, but also all day long on Instagram. Follow our accounts to get the inside view on everything that's going on, and check this daily compendium for highlights. President and editor-in-chief Stella Bugbee, interim fashion director Dora Fung, beauty director Kathleen Hou, senior market editor Diana Tsui, fashion market editor Lindsay Peoples, fashion news writer Emilia Petrarca, and more of the Cut's team will all be contributing to coverage.
DAY THREE
The third day of New York Fashion Week was all about storytelling. Kate Spade lit up the New York Public Library with lilac-colored clothes and a matching set. Cards placed on each guest's seat reminded people of Spade, the brand's namesake, with the words: "She left a little sparkle everywhere she went." Gowns on the runway told a new story of ease and sensuality: a sense of where the brand is headed.
The front row at Tory Burch almost made the scorching September heat … fun! Florals, suits, and plenty of shimmer promised exciting new additions for all of our wardrobes next spring.
Things got noisy later on in the day at Eckhaus Latta's presentation in Brooklyn. The sonics of the show were created by children banging on drums, and screaming. The tie-dye and neon clothes, however, were created by designers Zoe Latta and Mike Eckhaus.
The night closed out with a long line for the Prada party in Soho, which was quickly forgiven when Kali Uchis performed, and tiny grilled-cheese sandwiches were passed around. Henry Golding was once again in attendance.