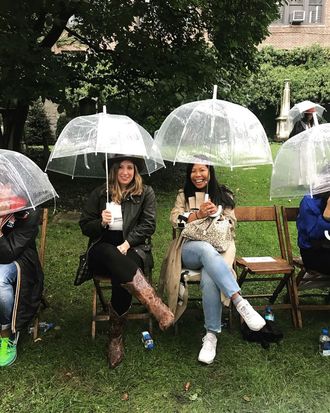 Sarah Spellings and Dora Fung at the Rodarte show.
Photo: Dora Fung
The Cut's editors cover New York Fashion Week on this website, but also all day long on Instagram. Follow our accounts to get the inside view on everything that's going on, and check this daily compendium for highlights. President and editor-in-chief Stella Bugbee, interim fashion director Dora Fung, beauty director Kathleen Hou, senior market editor Diana Tsui, fashion market editor Lindsay Peoples, fashion news writer Emilia Petrarca, and more of the Cut's team will all be contributing to coverage.
DAY FOUR
It's raining, it's pouring, but you'd have to be snoring if you thought showgoers didn't continue bringing their best outfits to New York Fashion Week. A sweet start to the day relieved us of the weather's dampness: Mansur Gavriel's confectionary-saturated breakfast. Guests snacked on large macarons filled with berries and cream, while admiring the brand's always lovely monochromatic outfits.
Meanwhile, The Row took the opposite approach with a calm, minimalist, flawless presentation of the brand's signature gowns and coats.
We expected Rodarte would deliver hauntingly beautiful floor-length dresses, but not that the brand would provide guests with transparent umbrellas! A must-have accessory.
Prabal Gurung's show began with a celebration of prayer flags, and the glee continued with brightly colored clothes and energized casting.
Finally, if you were on Instagram on Sunday night and followed anyone who works in or cares about Fashion Week, you probably know that Christina Aguilera joined the stage with a cast of 100 percent LGBTQIA+ models at Opening Ceremony.