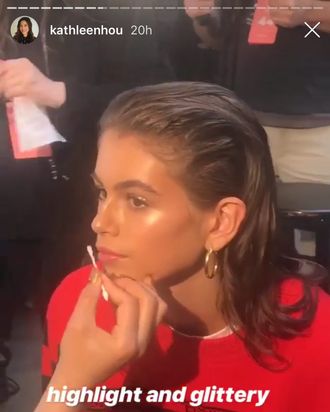 Kaia Gerber at Anna Sui.
Photo: Kathleen Hou
The Cut's editors cover New York Fashion Week on this website, but also all day long on Instagram. Follow our accounts to get the inside view on everything that's going on, and check this daily compendium for highlights. President and editor-in-chief Stella Bugbee, interim fashion director Dora Fung, beauty director Kathleen Hou, senior market editor Diana Tsui, fashion market editor Lindsay Peoples, fashion news writer Emilia Petrarca, and more of the Cut's team will all be contributing to coverage.
DAY FIVE
One really good thing about unfashionable weather, is that the trendsetters of the world continue to come up with wilder looks! Also, people are officially starting to wear fall colors. It's exciting.
Anna Sui's show was a spectacle of rainbow makeup, multicolored bucket hats, and patterned suits.
Zero + Maria Cornejo further validated that we'll be seeing lots and lots of neon next spring, with magenta strokes of eyeliner and slide-on sandals.
Rag & Bone hosted a movie premiere to celebrate their fall/winter 2018 collection, and served lots of food. Personally, if you're serving paninis and Venezuelan hot dogs at your event, I'm more likely to buy your clothes the next day. But that's just me!