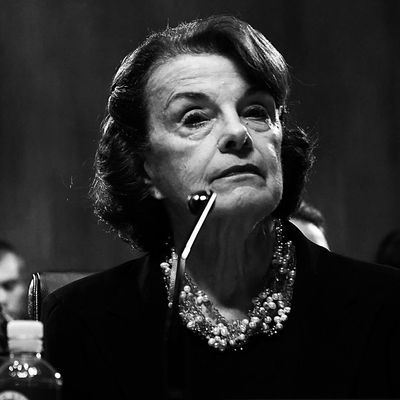 Dianne Feinstein.
Photo: Alex Wong/Getty Images
By now, we all know the story: In July, Palo Alto University psychology professor Christine Blasey Ford wrote a letter to her senator, Dianne Feinstein, detailing a harrowing sexual-assault claim against Supreme Court nominee Brett Kavanaugh. In her letter, Ford requested that Feinstein keep the information "confidential," writing that she feared the ramifications of speaking out — but also that she felt "guilty and compelled as a citizen about the idea of not saying anything." Feinstein respected her wishes, keeping both the letter and the accusation private. But reports of the letter's existence made their way to the public by mid-last week; Ford came forward shortly after, fearing that her identity would be revealed without her consent otherwise.
The timing of the reveal — a week before the Senate Judiciary Committee was set to vote on Kavanaugh's confirmation — has attracted predictable conspiracy theories from the right: Conservative commentators have dismissed Ford as an "opportunist"  and her claims as a "calculated political ambush," and President Donald Trump has accused the Democrats of intentionally withholding the information until the last minute "because they obstruct, and because they resist." But should Feinstein actually have come forward sooner?
For her part, Feinstein has said that "it has always been Mrs. Ford's decision whether to come forward publicly"; she also turned the letter over to the FBI after news of its existence leaked. As frustrating as it may be to see Kavanaugh speed through the confirmation process — in all likelihood facing no consequences for his alleged behavior — sexual-assault-survivor advocates say Feinstein's approach was correct.
"At its root, sexual violence is about power and control, so for victims and survivors they often feel powerless," Jennifer M. Becker, the deputy legal director for Legal Momentum, a women's legal defense and education fund, told the Cut, adding that supporting survivors means helping them own their experiences on their own terms. "Respecting confidentiality is essential to doing just that. We need to always support survivors by giving them power and control over their own life experiences."
Since going public, Ford has had her credibility subjected to relentless attacks in the press. She's received death threats, had her email hacked, and been impersonated online; the vitriol directed at her has been so intense and threatening that she's had to move her family out of their home. "Her worst fears are coming true," a source told the New York Times.
Becker points to this as an indication that Feinstein was right to respect her request for privacy. As with any sexual-assault survivor, Ford is entitled to tell — or not tell — her own story on her own terms. She doesn't owe it to anyone to come forward; her experience and her narrative are her own, even though they are largely being distorted by conservatives now.
Feinstein has long been a supporter of the Violence Against Women Act (VAWA), which was passed in 1994. The act marked the first federal legislation designed to help end violence against women, and it includes provisions that protect the confidentiality for victims seeking certain services, such as filing police reports, hospital visits, and medical forensic examinations.
As an advocate for these programs, it makes sense that Feinstein would have kept Ford's accusation confidential, even though the letter doesn't fall under the act's protections. "She's been a longtime supporter of VAWA and supporting survivors of violence," Becker said. "In that sense, she is following the best practices that are informed by years and years of advocates and experts in the field of gender-based violence, who recognize that supporting survivors means giving them the choice of whether or not their story would be publicly accessible." Feinstein even said as much in a statement  released after Ford spoke out. "For any woman, sharing an experience involving sexual assault — particularly when it involves a politically connected man with influence, authority and power — is extraordinarily difficult," it reads.
Still, there are ways Feinstein could have alerted others to the accusations against Kavanaugh without compromising Ford's anonymity. And, furthermore, as an elected official, she would have had an ethical duty to report such extreme allegations against a Supreme Court nominee, according to Katherine Franke, the director of the Center for Gender & Sexuality Law at Columbia Law School. The information could have helped determine whether Kavanaugh is fit to serve on the court, and it therefore should have been disclosed sooner, she added.
Franke stressed that this could have been done in a way that kept Ford's identity confidential. "Senator Feinstein could have disclosed the fact of the accusation without disclosing the name of the accuser," she said. "It would have been proper at that point for the committee to have adopted measures that would have protected the accusing party — including confidential interviews with committee staff."
But Franke isn't only placing the burden on Feinstein in this instance; she says what has happened to Ford since her story went public was "foreseeable," and the committee should have anticipated the threats and harassment — and even prepared for it. They could have, for instance, put into place mechanisms that would have protected Ford's identity, rather than basically giving her the choice of "nondisclosure on the one hand, or full disclosure without precautions on the other." As a result, Franke said that the "interests of neither party have been adequately attended to, and the Judiciary Committee's leadership has allowed a damaging free-for-all to unfold."
On Sunday, when she first came forward, Ford told the Washington Post that she decided to reveal her identity because "my civic responsibility is outweighing my anguish and terror about retaliation." Four days later, committee chairperson Chuck Grassley made it clear he has no regard for either: Republicans tried to force Ford to decide within 24 hours whether she will testify on Monday, refusing to accommodate or even entertain her request that the FBI investigate her allegations beforehand.
Still, Ford agreed on Thursday afternoon to testify next week, as long as she is given a fair hearing and her safety needs are met (although she also said that testifying on Monday "is not possible and the Committee's insistence that it occur then is arbitrary in any event"). With this decision, Ford is again putting her sense of duty ahead of her own interests. If only she could say the same about the conservative committee members.