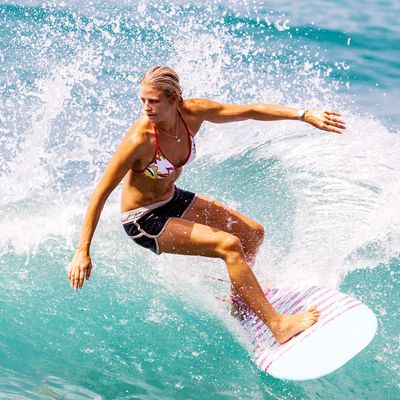 Photo: John Seaton Callahan/Getty Images
The World Surf League, surfing's governing body, announced this week that beginning in 2019, it will award equal prize money to its male and female competitors.
"This is a huge step forward in our long-planned strategy to elevate women's surfing," WSL CEO Sophie Goldschmidt said in a statement. "This is the latest in a series of actions the League has undertaken to showcase our female athletes, from competing on the same quality waves as the men, to better locations, and increased investment and support."
But some, like Sabrina Brennan of the Committee for Equity in Women's Surfing, don't think the league would have changed its policy if it weren't for outside intervention from the government. Shortly before the WSL's announcement, a California state commission said it would only lease public beaches for the WSL's Mavericks competition if men and women received the same prize money.
Brennan told the website CALmatters that she began lobbying for equality in surfing in 2015, when she asked the California Coastal Commission to intervene and add a condition that the Mavericks include a heat for women. The WSL complied, and Brennan and other activists focused in on the issue of equal pay.
Currently, Forbes explains, the WSL awards prize money based on the number of athletes in a competition. Because there are generally far more male surfers in competitions than female, their prizes are generally far higher.
Surfer Bianca Valenti told CALmatters she won first place and $1,750 at a competition in Mexico this summer, while her male counterpart earned $7,000. And in June, Rio Waida and Zoe Steyn won first place in the boys' and girls' 2018 Billabong Junior Series Ballito Pro event in South Africa, but Waida earned $8,000 for his win, twice as much as Steyn.
The WSL denies that California's commission influenced its decision.
"The one thing we wanted to pride ourselves on was being a leader in the space," said WSL Deputy Commissioner Jessi Miley-Dyer told Capital Public Radio in Sacramento. "We wanted to be one of the first sports to do this for the women, and we also thought that it would be a really good stand for us. And it's important as well for sports to pay attention to what's going on in broader society."