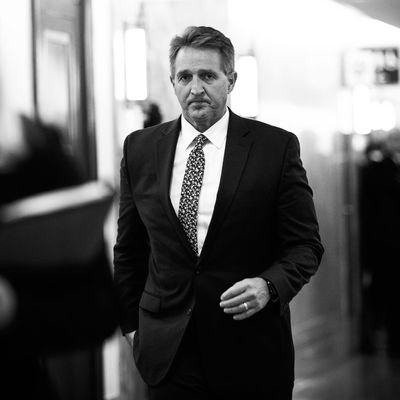 Jeff Flake.
Photo: Drew Angerer/Getty Images
Republican senator and Senate Judiciary Committee member Jeff Flake of Arizona announced on Friday morning that he would be voting to confirm Brett Kavanaugh to the Supreme Court. Prior to this, Flake had spoken out in support of Kavanaugh's sexual-assault accuser Christine Blasey Ford, and had been considered a swing vote in Kavanaugh's confirmation process. After the news of his decision broke, Flake was confronted by furious sexual-assault survivors in an elevator on his way to the committee vote, who told him that his decision showed he did not care about people like them.
In powerful video seen on CNN, Flake was asked interview questions by a reporter as he entered an elevator en route to the committee vote. Sexual-assault survivors then walked into the shot and confronted him.
One survivor said to Flake, in tears: "What you are doing is allowing someone who actually violated a woman to sit on the Supreme Court. This is not tolerable. You have children in your family. Think about them. I have two children. I cannot imagine that for the next 50 years they will have to have someone in the Supreme Court who has been accused of violating a young girl. What are you doing, sir?"
Another woman said, "I was sexually assaulted and nobody believed me. I didn't tell anyone, and you're telling all women that they don't matter, that they should just stay quiet because if they tell you what happened to them, you're going to ignore them. That's what happened to me and that's what you're telling all women in America; that they don't matter, they should just keep it to themselves, because if they tell the truth you're just going to help that man to power anyway."
As Flake looked down, the woman continued, "Look at me when I'm talking to you. You're telling me that my assault doesn't matter. That what happened to me doesn't matter." Soon after, the elevator shut and Flake headed to the committee vote.