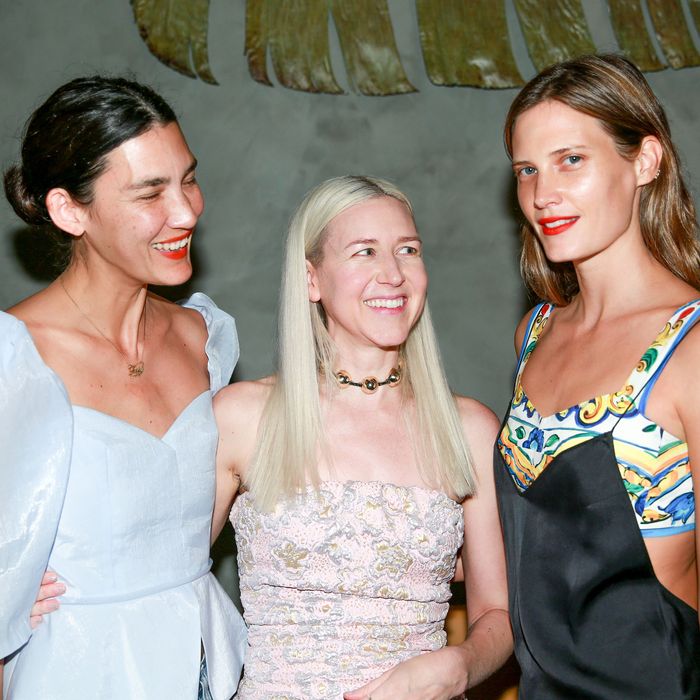 Alice Fox, Kristen Cole, Drake Burnette.
Photo: Tiffany Bri/BFA.com
"What's your name?" "Pisces." So went a conversation at Wednesday night's Forty Five Ten/Tenoversix New York Fashion Week party, celebrating the Dallas retail haven's new store in New York's Hudson Yards, slated to open in March. The crowd of fashion insiders in attendance, many wearing oversize earrings and pointy mules, huddled in a dimly lit basement at Chinatown's Straylight, nibbling on fried chicken and swapping Instagram handles as they sat perched on velvet banquettes.
Among them were models Lili Sumner and Jenny Walton, artists Carly Mark and Chloe Wise, and musician Dev Hynes of Blood Orange. Michelle Zauner, also known as Japanese Breakfast, crooned while guests wondered aloud why there were string beans delicately glued to a warrior statue by the bar.
Kristen Cole, the President and Chief Creative Officer of Forty Five Ten and Tenoversix, bounced around the room in a ruched pink dress and Converse high-tops. "There's a new wave of retail coming to New York right now, and we're really excited to be part of that," she said, stopping intermittently to greet friends. "I feel really good energy here."
The anticipation of Fashion Week, in all its chaos, was palpable in the room. "I actually feel quite excited to go into the ridiculousness of it all," Sumner told the Cut, wearing a shiny blue crop top and matching shorts. "It's a fun fanfare."