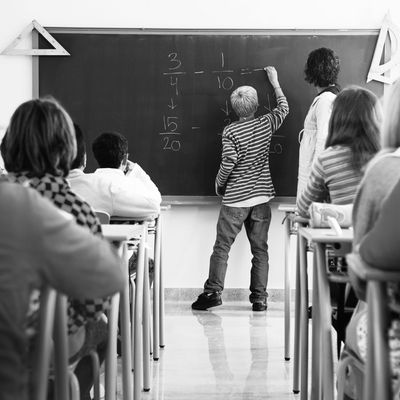 Photo: RUSS ROHDE/Getty Images/Cultura RF
The Georgia School of Innovation and the Classics (GSIC) in Hephzibah, Georgia, last week sent parents a permission slip asking if the school staff could please hit their children with a wooden paddle if they misbehave, CBS affiliate WRDW reports.
"We take discipline very seriously," superintendent Jody Boulineau said of the charter kindergarten-through-ninth-grade school.
"There was a time where corporal punishment was kind of the norm in school, and you didn't have the problems that you have," he added.
The permission form obtained by WRDW, which has not been independently verified, outlines exactly how the children will be disciplined — they would be "taken into an office behind closed doors," told to "place their hands on their knees or piece of furniture," and "struck on the buttocks with a paddle." The paddles will be "24 inches in length, six inches in width and 3/4 inches in thickness."
Should parents choose to opt out of the paddling, they must agree to up to five days of suspension for their children.
Boulineau told the outlet that the response so far has been positive.
"I've heard, 'Great, it's about time, we're so glad that this is happening again, they should've never taken it out of schools.' All the way to, 'Oh my goodness, I can't believe you are doing that.'"
Georgia is one of 20 states where paddling students in schools is still legal — though, as CBS notes, it is a policy that has not been widely used for years.
Nor, according to research, is it a particularly effective policy. A 2014 study in the Journal of Family Psychology found that spanking has only a short-term, fleeting impact on children's behavior, as opposed to other types of behavior correction like time-outs, talking-to's, or depriving kids of certain privileges. What's more, receiving corporal punishment as a child is linked with more serious behavioral issues in the future, like increased rates of aggression and violence.
So far, Boulineau says about 100 parents have sent back forms, a third of which give the school permission to paddle their children.