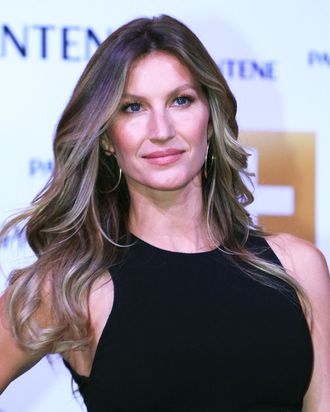 Gisele Bündchen.
Photo: Mario Guzman/Epa/REX/Shutterstock
In her forthcoming memoir, Lessons: My Path to a Meaningful Life, supermodel Gisele Bündchen opens up about her struggles with mental health, claustrophobia, and addiction.
"Things can be looking perfect on the outside, but you have no idea what's really going on," she told People. In the interview, she discussed her history of panic attacks and fear of enclosed spaces, which began with one bumpy ride on a small aircraft in 2003:
"I had a wonderful position in my career, and I was very close to my family, and I always considered myself a positive person, so I was really beating myself up. Like, 'Why should I be feeling this?' I felt like I wasn't allowed to feel bad. But I felt powerless. Your world becomes smaller and smaller, and you can't breathe, which is the worst feeling I've ever had.




I actually had the feeling of, 'If I just jump off my roof, this is going to end, and I never have to worry about this feeling of my world closing in."
In an excerpt of her book, published by "Page Six," the model gives further details, writing that she felt like an animal trapped inside a cage.
"It felt like everything in my life was going to kill me. First it was the airplanes, then elevators. Then it was tunnels and hotels and modeling studios and cars. Now it was my own apartment. Everything had become a cage, and I was the animal trapped inside, panting for air. I couldn't see a way out, and I couldn't stand another day of feeling this way.




The idea swept over me then: Maybe it will be easier if I just jump. It will be all over. I can get out of this. When I think back on that moment, and that 23-year-old girl, I want to cry. I want to tell her that everything will be all right, that she hasn't even begun to live her life. But in that moment, the only answer seemed to be to jump."
Bündchen says she helped improve her mental health by consulting with doctors, ditching cigarettes, and quitting her habit of drinking a bottle of wine and three mocha frappuccinos every day. "I gave up everything in one day," she told People. "I thought, 'If this stuff is in any way the cause of this pain in my life, it's gotta go.'" The model now follows an infamously strict diet with her husband Tom Brady.
In her book, she also describes her struggles with motherhood. "When I became a mom, I kind of lost myself," she writes. "It was like part of me died. I'd been this very independent person. It was all about me. But now I had this little being, and I suddenly felt I couldn't do other things, and that was very hard for me."