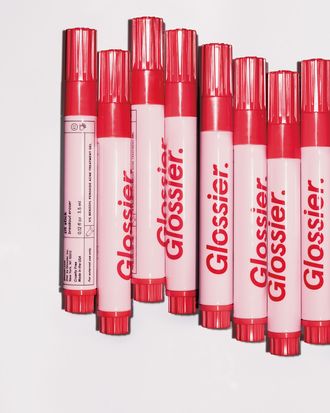 Photo: Courtesy of Glossier
Glossier is on a roll. Just weeks after opening a temporary pop-up store in Chicago, they are jumping into the acne-fighting arena with their brand new Zit Stick. It's described as a "targeted breakout eraser" that can be applied anytime, anywhere. Which is ideal, because as anyone who has a zit can attest, you end up thinking about those dumb little things all the time, everywhere.
Most standard acne treatments harness one of two acne-fighting superpowers: benzoyl peroxide or salicylic acid, which makes the Zit Stick unique for utilizing both. Benzoyl peroxide works to decrease acne-causing bacteria, and salicylic acid dissolves buildup that can clog pores (this is why salicylic acid is also a great exfoliator). Because these are two fairly potent ingredients, the formula also includes glycerin and niacinamide (a Vitamin B3 derivative) to soothe skin during application. It's supposed to go on clear, so you can even put it on over your makeup for the most stubborn of spots.
The budget-friendly stick looks and works like a Tide-like pen. It has an antimicrobial stainless steel rollerball at the tip, and you twist the other end to dispense the product onto the rollerball. It seems like something you might have way too much fun playing around with when you first get it, though you can apply it allegedly up to three times daily, so hey, play away.
Photo: Courtesy of Glossier