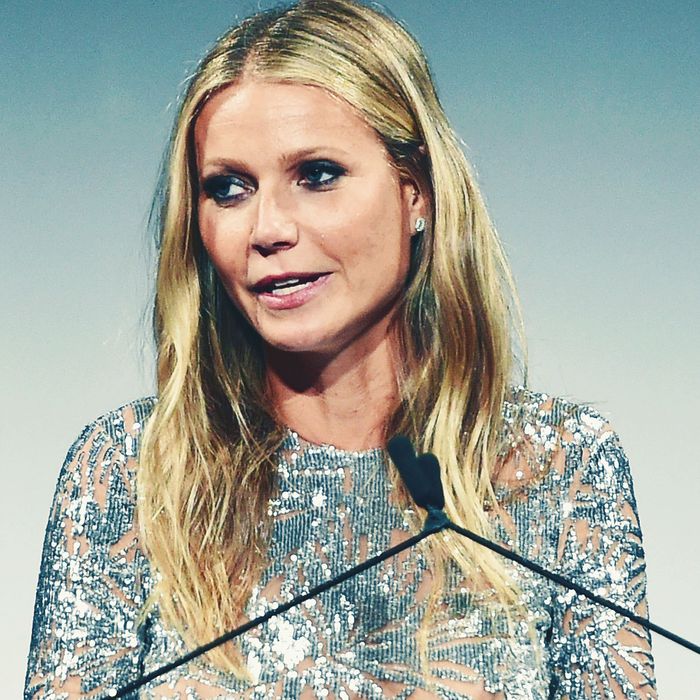 Gwyneth.
Photo: Jamie McCarthy/Getty Images for Michael Kors
Back before Gwyneth Paltrow admitted she might not know about some things, her lifestyle brand, Goop, propagated a host of unfounded health claims. One of those involved selling jade eggs to put inside your vagina, to supposedly "increase chi, orgasms, vaginal muscle tone, hormonal balance, and feminine energy in general." The $66 product, which can apparently be recharged with the energy of the full moon, sold out online — despite health professionals warning that you should definitely not put rocks in your vagina.
Now, Goop Inc. is agreeing to settle with California prosecutors over allegations that the company has made faulty scientific claims about the wonders of the vaginal egg. On Tuesday, the company said it would pay $145,000 in civil penalties in a consumer protection lawsuit brought by the Santa Clara County district attorney's office and nine other California prosecutors.
The district attorneys said Paltrow's "wellness empire sold
a series of women's health products whose advertised medical claims were not supported by competent and reliable science," focusing specifically on the "unsupported attributes for Goop's Jade Egg, Rose Quartz Egg, and Inner Judge Flower Essence Blend."
The company also agreed to refund customers who bought those products and to stop advertising them as a solution to medical issues. Erica Moore, Goop's chief financial officer, released a statement in which she promised to resolve the suit "quickly and amicably," though denying its role in misleading customers:
Goop provides a forum for practitioners to present their views and experiences with various products like the jade egg. The law, though, sometimes views statements like this as advertising claims, which are subject to various legal requirements…The Task Force assisted us in applying those laws to the content we published, and we appreciate their guidance in this matter as we move from a pioneer in this space to an established wellness authority.
The lawsuit comes after last year's investigation by the watchdog group Truth in Advertising, which found at least 50 cases of "deceptive marketing" by Goop. Though focused on the vaginal eggs, prosecutors also called out the brand for attempting to sell a $22 essential oil that could allegedly prevent depression.
"The health and money of Santa Clara County residents should never be put at risk by misleading advertising," Santa Clara district attorney Jeff Rosen said in a statement. "We will vigilantly protect consumers against companies that promise health benefits without the support of good science … or any science."