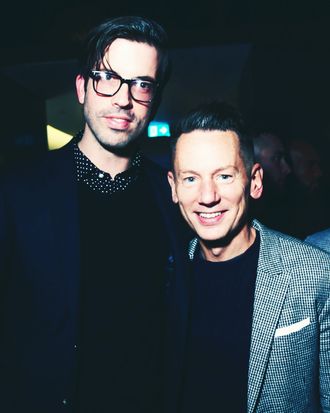 Will Welch and Jim Nelson.
Photo: Victor Boyko/Getty Images for GQ Magazine
According to a Condé Nast press release published Thursday afternoon, Jim Nelson, editor-in-chief of GQ magazine, is exiting the publication after 21 years. He will be replaced by Will Welch, the magazine's former creative director, this December.
For the past three years, Welch has also acted as editor-in-chief of GQ Style, a quarterly luxury fashion offshoot. He will continue to hold this position for the foreseeable future.
"Will is responsible for so much of what has propelled GQ forward and has a clear vision for where it will go in the future," wrote Anna Wintour in a statement. "He is in an ongoing dialogue with the GQ audience, which has grown substantially in the past few years. His knowledge and keen eye for fashion and design and how to present it in a democratic way is a big part of his success with the reader."
Welch joined GQ in May 2007 as an associate editor covering fashion, pop culture, and music. He was promoted to senior editor in 2012, style editor in 2014, and creative director earlier this year.
"I'm honored to succeed the great Jim Nelson as editor-in-chief of GQ," said Welch in a statement. Adding: "I think the big opportunity in this environment is to be more daring than ever. I'm excited to surprise and challenge our readers in new ways across GQ's many formidable platforms."
Nelson, meanwhile, joined GQ as a senior editor in 1997. "I've been at GQ for 21 years and in this job for more than 15 — a good, long, productive run, not to mention a ton of fun — and I've gotten to work with some of the most talented writers, editors, photographers, designers and creative minds in the business," he wrote. "But now feels like a good time for me to figure out the next chapter of my life. (It'll be a good one, I promise.)"
When the Cut reached out to GQ for comment, the magazine had no additional statement to provide at this time.