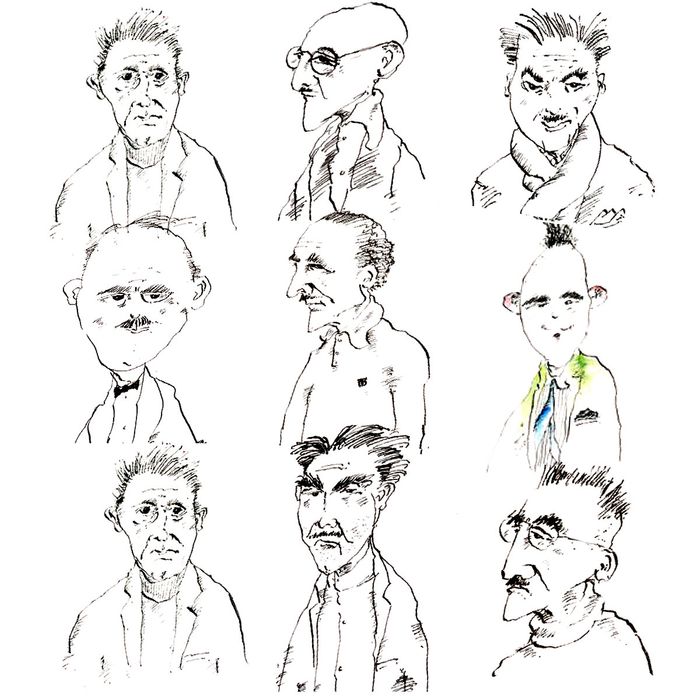 Illustrated by Graydon Carter for
Esquire
: "The Hidden Members of the Trump Inner Circle."
Illustration: Graydon Carter
Did you know that Graydon Carter, who for many, many well-compensated years was the editor-in-chief of Vanity Fair, is also a pretty talented cartoonist? And that he can draw noses really well?
Since he left VF, Carter hasn't just been lying around doodling, of course: He invested in a news app and is reportedly starting a media company that will focus on "wealthy and famous European families, including Britain's royal family." It will include both an events business (he always knew how to throw a swank party!) as well as publish the International Best Dressed List (which is apparently something Carter part-owned, even while he ran the list at Vanity Fair).
In the meantime, his son, Ash, who works as an editor at Esquire, asked if he'd be up for doing some freelance work for the magazine, and assigned him an illustrated piece titled "The Hidden Members of the Trump Inner Circle." The story looks like one of those humorous taxonomies that Carter ran over the years in both Spy and Vanity Fair. "It was great working with Graydon on this piece," said Esquire's cartoon and humor editor, Bob Mankoff, who edited the piece. "His wit is as wicked as his pen is sure. My only regret is that he didn't give up his day job sooner." Jay Fielden, Esquire's editor-in-chief, said to expect more from Carter: "The fun's only beginning!"
Herewith, an excerpt: imagined members of the president's "Hair Team," or as one wag dubbed them, "Hair Force One."
All arrive via identical dark vans to the White House every morning at 5 a.m. sharp, as they did for many years at Trump Tower. Trained in Eastern Europe, they operate on the president during his "Executive Time" like a Formula One pit crew. You should see them — in and out in an hour! Sometimes Mr. Trump even lets them do Mrs. Trump's hair. But only when they are done with him! Mr. Trump keeps their passports locked in a vault in Trump Tower for safekeeping. Each man has his specialty.
WOJTEK PREPARES THE ACTIVATOR FLUIDS THAT LIGHTEN THE PRESIDENT'S HAIR WITHOUT DAMAGE.
SASHA IS IN CHARGE OF FLUID HAIR PAINTING. "BETTER THAN FOIL! PRESIDENT GETS TO LIE ON BACK WHILE HAIR IS COLORED. HANDS FREE FOR EXTRA TWEETING."
BOGDAN HANDLES AMMONIUM-THIOGLYCOLATE TREATMENTS "TO MAKE HAIR MORE MANLY AND READY FOR PERM." (ALSO IN CHARGE OF PORTABLE VATS OF BARBICIDE. "THAT MR. TRUMP, HE'S A STICKLER FOR HYGIENE!")
VAROSLAV HANDLES THE HEAVY-DUTY CLARIFYING SHAMPOO, "TO RID MR. TRUMP'S HAIR OF TARS AND LIQUID RESIDUES FROM DAY BEFORE."
BARTEK AND PATRYK ARE IN CHARGE OF MR. TRUMP'S BILATERAL DUSTER — "SUPER-LIGHT DAILY HAIRCUT SO IT NEVER LOOKS LIKE HE JUST HAD ONE!" THEY CALL IT BILATERAL BECAUSE "THE PRESIDENT, HE'S SO CLASSY, HE HATES THE WORD MULLET." (PATRYK IS ALSO IN CHARGE OF THE CATAGEN CLOCK — "TELLS TEAM THE RELAXING CYCLES OF PRESIDENTIAL HAIR.")
THANOS "IS STRONGEST!" ("HAS ARMS LIKE PIANO LEGS!" SAYS BOGDAN.) THANOS HANDLES THE OVERDIRECTING BLOWOUT MACHINE EVERY MORNING. "CREATES DOUBLE THE VOLUME!"
ARTEM HANDLES THE FREEZING SPRAY, SPECIALLY DESIGNED FOR MR. TRUMP BY DOW CHEMICAL. SPRAYER POWERED BY SMALL ROLLS-ROYCE ENGINE. "CLASSY."