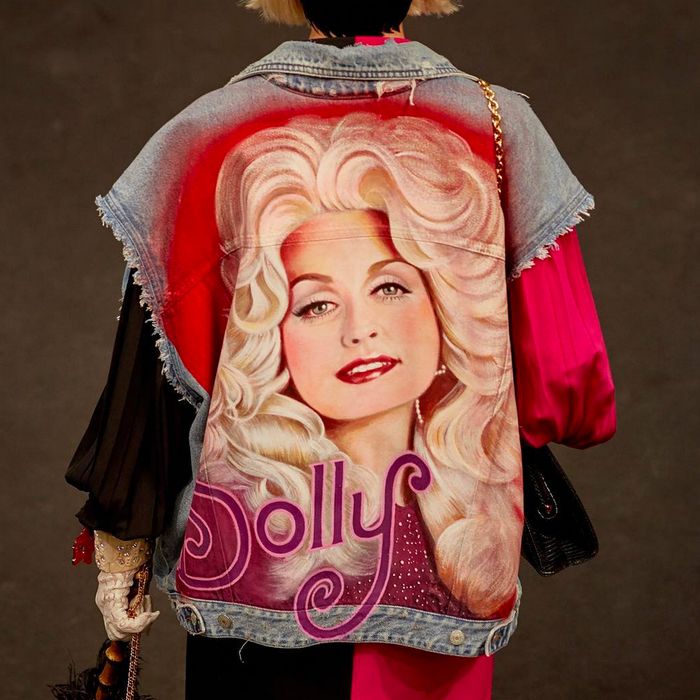 Dolly Parton by Gucci.
Photo: Gucci/Instagram
As Dolly Parton once said, "It costs me a lot of money to look this cheap." Her style philosophy was observed at Gucci's spring 2019 show in Paris yesterday. Designer Alessandro Michele showed a jacket, a shirt, and leggings with Parton's face on it as part of his 84-look collection. While the country singer was an unexpected addition to Paris Fashion Week, her appearance underscored the wide range of references to just how maximalist Gucci's latest collection truly is. Parton was featured alongside bejeweled cod-pieces, Mickey Mouse handbags, multiple neon feather boas, and a live cockatoo.
Parton was not the only female musician who Michele paid homage to — though she may have been the most emblematic of the collection. Jane Birkin (famously a jeans-and-T-shirt kind of woman) performed her 1983 single "Baby Alone in Babylone" at the show, following what Reuters described as a "sinister soundtrack interspersed with distant screams." Janis Joplin was also the inspiration for the many felted hats presented. They were a bit more structured than Joplin's signature floppy hat but still captured her hippie vibe — especially when paired with a bomber jacket, a strawberry-printed shirt, a red leopard-print skirt, tiered fringe pants, and a medley of necklaces, bracelets, and belts all at once.
Michele always knows how to surprise us. The combination of Birkin, Parton, and Joplin has us thinking What kind of playlists is Michele curating on Spotify?