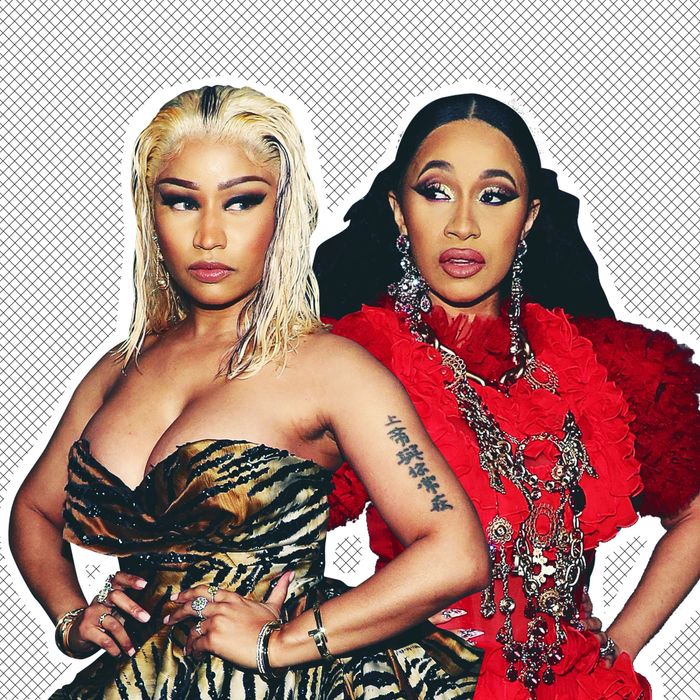 Cardi B leaving the Icons party.
Photo: Getty Images
While you were sleeping, Nicki Minaj and Cardi B were decidedly not. The pair of hip-hop artists got in a fight at the Harper's Bazaar ICONS party during New York Fashion Week last night. According to Variety, Cardi left barefoot, with her dress torn, and a lump on her head courtesy of a member of Minaj's security team (possibly Love and Hip Hop star Rah Ali). But the feud has been burning for a while. Here's everything to know.
The Feud Initially Began Over Some Instagram Comments
In March 2017, it appeared as if Minaj had liked some comments on Instagram reading "dumb ass bars," seemingly referring to Cardi's music – but as some fans pointed out, the comments could have been fake.
Nicki Seems to Insult Cardi on a Track
Later in 2017, Minaj appeared on the song No Flags with 21 Savage and Offset. Many thought she was referring to Cardi with her lyrics:
Lil bitch I heard these labels tryna make another me

Everything you getting, lil hoe, is cause of me

I heard I'm stopping bags, word to Shaggy it wasn't me

These bitches is my sons, but they daddy ain't bust in me
There's no direct reference to Cardi, but many fans thought it was about her. Minaj denied it in a tweet.
Tensions Grow Around the Song "MotorSport"
Cardi, Minaj, and Migos worked on a song called "MotorSport" which has fueled a lot of drama. In an interview last November after the song came out, the interviewer asked Cardi directly what was going on between her and Minaj. Cardi dodged the question, saying "I don't like getting into detail."
She elaborated: "When I heard the track, her verse wasn't finished — well, it's not the verse that is out right now — and Quavo told me to get on the song, and I just felt like it was a perfect opportunity for me to be on a track that's big like that."
Nicki Said Cardi's Reaction to "MotorSport" Hurt Her
Months later, in an interview with Apple Music's Beats 1 radio, Minaj said, "When I first came in the game, if a female of [my] stature had done a feature with me on it, I would only be singing their praises and saying thank you. The first interview [Cardi] did after 'MotorSport' came out, it just really hurt me, because she looked so aggravated and angry, and the only thing she kept saying was, 'I didn't hear that, she changed her verse.' " She later elaborated on Twitter that the verse was changed per Cardi's request.
Leaked videos of the original track include a line in which Minaj likens herself to Cardi's coach, a la Vince Lombardi. "If Cardi the QB, I'm Nick Lombardi."
Cardi Denied Their Beef Multiple Times
She reaffirmed this in April, and told Beats 1 radio (getting all the scoops) "I feel like [the beef] is just really internet made up. Fans and people, they really wanna see that happen because it's really entertaining to see people beef. When Nicki and Remy was beefin', everyone was tuning in. I don't really have time for that."
In November, Cardi told Complex, "I feel like people wouldn't even be satisfied even if me and [Nicki] was making out … I feel like people just want that drama." Nicki said, in a since-deleted tweet, "very true."
The Two Spoke About an "Issue" At the Met Gala
The two shared a nice moment at the 2018 Met Gala in May. However, on Howard Stern's radio show, Cardi B said that she spoke with Nicki about the tension between the two. "I spoke to her about it. I spoke to her at the Met Gala about it, and it's just like, see? It's just something that had to be talked about because it was an issue."
She added that the rumors were inflamed by the media. "The media, they just so thirsty to put women in hip-hop — not just women in hip-hop, color women — against each other," she said. "I don't understand why they do that and why they want to do that."
Which Brings Us to the Fight at the Harper's Bazaar ICONS Party
The feud came to a head at the Harper's Bazaar ICONS party during New York Fashion Week. Videos show Cardi lunging at Nicki and her entourage. She reportedly threw a shoe at Minaj. She was escorted out of the party.
Cardi left the party with a large bump on her forehead and a tear in her dress, and was reportedly barefoot.
Cardi Says The Fight Was About Her Daughter, Kulture
The fight may have occurred because Minaj was talking about Cardi's young daughter, Kulture. After the event, Cardi posted a long Notes app statement, reading in part:
"I've let a lot of shit slide! I let you sneak diss me, I let you lie on me, I let you attempt to stop my bags, fuck up the way I eat! …. But when you mention my child, you choose to like comments about me as a mother, make comments about my abilities to take care of my daughter is when all bets are fuckin off!!"
Minaj has not yet commented.
Nicki Minaj spoke about the fight on Queen Radio.
During her Queen Radio show, Nicki Minaj addressed the Harper's Bazaar fight. She denied that she said anything about Cardi B's daughter. "I would never talk about anyone's child or parenting," she said. "These lies are ridiculous."
She also said that she was wearing a "Gaultier gown off the mother fuckin' runway." She said that she felt humiliated, and said that Cardi B came into her culture. "This woman's at the highest point in her career and she's throwing shoes?"
Cardi B has not yet responded to Nicki Minaj's comments.