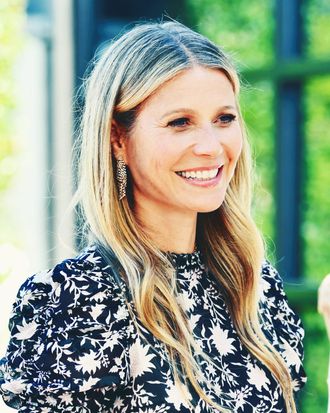 Gwyneth Paltrow.
Photo: Emma McIntyre/Getty Images
Gwyneth Paltrow has been incredibly excited to consciously couple with her fiancé Brad Falchuk since the two announced their engagement this past January, and this weekend, the pair will reportedly make it all official. According to "Page Six," sources say that Paltrow will take Falchuk as her lawfully-wedded husband this weekend in front of their 50 closest friends and family members in the Hamptons.
In the cover story of the "Sex & Love" issue of Goop Magazine, where she confirmed the rumors about her engagement to her boyfriend of three years, Paltrow wrote about how she excited she was to remarry, especially considering that she and her ex Chris Martin didn't have a wedding. And, while she's nervous about tying the knot again at 45, she's confident that Falchuk is The One.
"Personally, at midlife, I have tried to accept how complex romantic love can be," she wrote. "I have decided to give it a go again, not only because I believe I have found the man I was meant to be with, but because I have accepted the soul-stretching, pattern-breaking opportunities that (terrifyingly) are made possible by intimacy."
Thank God Paltrow took care of that pesky vaginal-egg lawsuit earlier this month!