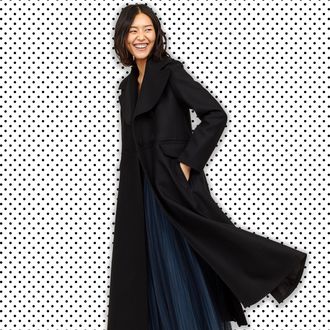 Photo: Courtesy of the Retailer
H&M is finally doing an ecofriendly collection for fall. The Conscious Exclusive, which has been around for two spring seasons, uses only sustainable materials, including many that have been recycled. The brand has added two new, sustainable fabrics: recycled velvet and cashmere made from scraps of fabric that already existed in the H&M production chain. That translates into cashmere sweaters, crushed-velvet pants, sequin dresses, and a tulle ball gown. Not your average ecofriendly fare.
H&M has been pretty aggressive about introducing environmentally friendly fabrics into their product chain, especially when compared to other fast-fashion brands. The company's goal is to have all of its materials be recycled or sustainable by 2030. Right now, according to Emily Scarlett, the PR manager for the brand, about 35 percent of their collection fits that description. Along with recycled cashmere and velvet, the range of more sustainable materials includes yarn from recycled fish nets, Econyl polyester, and organic cotton.
While H&M has been very public about the source and content of its Conscious Exclusive fabrics, it's less clear on who made the clothes and under what conditions. A recent report found evidence of abuse in the factories that make clothes for H&M and other major companies. An H&M spokesperson said the brand is working toward fair living wages in "certain strategic factories," and are trying to tackle issues in all parts of the supply chain.
So the company may have a long way go to, but it's still a sign of progress when a big, influential fast-fashion brand embraces sustainability. Scroll down to see the collection.