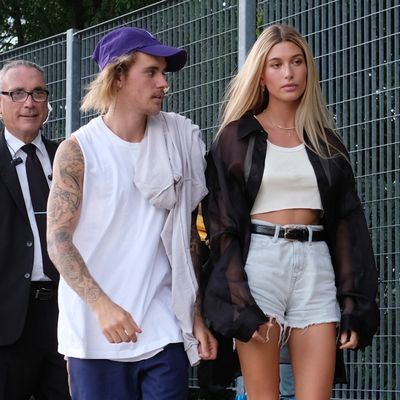 Justin Bieber and Hailey Baldwin.
Photo: Nicholas Hunt/Getty Images for NYFW: The Shows
Hailey Baldwin and Justin Bieber are having a speedy, public, love affair. They got engaged shortly after they started dating and doing serious couple activities like crying together in parks, going international to get ice cream, and getting haircuts together.
Alec Baldwin, uncle to Hailey Baldwin, had some advice for the young couple. The actor told People magazine that "people who get married young — and they are very young — I want them to just spend time with each other," he said.
"Obviously, him, in particular, has this crazy superstar career," he added. "If you want to have a successful marriage, you have to be together. You gotta stay together."
Baldwin emphasized that choosing to spend time with his family is an important part of his life with wife Hilaria Baldwin and their young children.
Justin and Hailey are reportedly slowing things down, and they don't seem to have any challenges spending time together. They recently even went to John Elliott's sweaty skateboard fashion-week show — that's love.