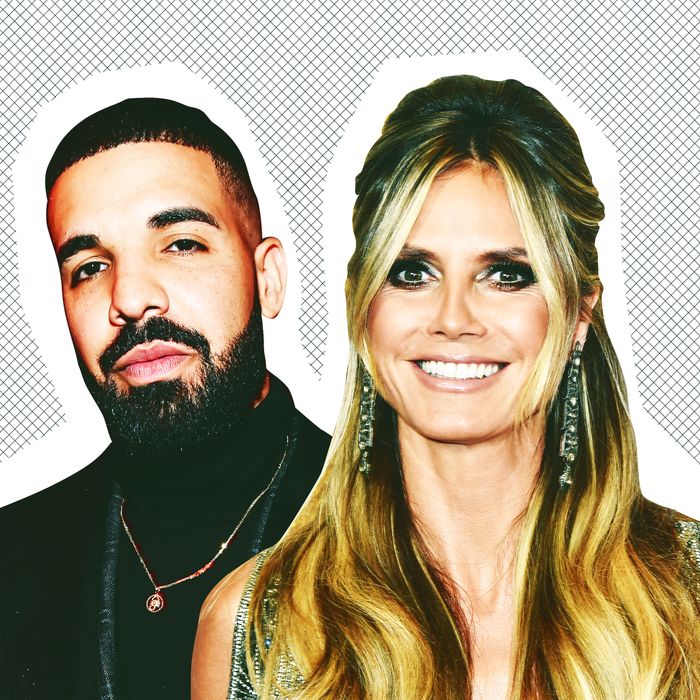 Drake and Heidi Klum.
Photo: Getty Images
Some people are simply born with too much love in their hearts, love that must be lavished on others lest it overpower and consume its host, reducing them to a smoking pile of scented love letters. Like Drake — sweet, gentle Drake — who, despite having been rejected by a procession of A-list stars (Rihanna, Jennifer Lopez, Issa Rae, Serena Williams) continues to find the strength and vulnerability to put himself out there. As he did with supermodel Heidi Klum, who told Ellen DeGeneres this week that the sad rapper once asked her out, only to be burned again, because she never responded.
During her last appearance on DeGeneres's show, the then-single Klum was asked to play a game in which she had to choose between two bachelors. When it came to Drake vs. Joaquin Phoenix, she chose Phoenix. Evidently unfazed by his loss, Klum says Drake asked a friend for her number to ask her out, but it was too late.
"I don't remember when it was, and I didn't have his number; he didn't have my number [either]," Klum told DeGeneres. "Someone who I know knows him, and I guess he asked to have my number, and then he texted me. I was like, 'Oh, my gosh. This is so weird!' But I never texted him back, because I found the love of my life."
Indeed, shortly before Drake sent her his text, Klum had met and started dating Tokio Hotel guitarist Tom Kaulitz, whom she says she loves "very much."
"He's German, too," Klum, 45, said of the 29-year-old. "Maybe that was always the thing that was missing: I need a German! We have the same roots, the same upbringing and the same understanding. Or maybe he's the first man who actually understands what I'm talking about. Who knows? But it's working really well."
Good for Klum. And good for Drake for opening himself up to the possibility of connection and companionship. Someday he'll find someone who deserves all of his love and Birkin bags.